AMD EPYC Milan-X: 64-core CPU and 768MB of L3 cache are coming, a monster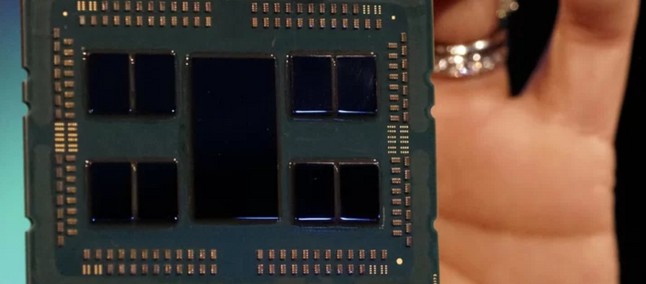 On the strength of a success that has brought sales to the stars, AMD is preparing for this last part of the year with some projects that, given in hand, they will see the company "manage" the performance advantage it has gained over its competitor Intel. The introduction of Zen 3 architecture with the Ryzen 5000 desktop has contributed significantly to this success , which is why, along with what appears to be the current Intel roadmap – see Alder Lake again at 10 nm – will lead the Sunnyvale company to propose a refresh of its 7nm solutions.
While the Mobile CPU segment – v. the first Ryzen 6000 – will be able to count on TSMC's most optimized 6nm production node, desktop and server proposals will still use the current 7nm technology, further optimized and flanked by a substantial novelty which, at least from the preliminary data, could guarantee the company a further advantage in terms of absolute performance.
Milan-X (GN-B2) has 768 MB L3 $ per CPU. Let's confirm the specs 🧵

7773 X (64 cores)
2.2GHz base, 3.5GHz boost
768 MB L3, 280 W TDP

– ExecutableFix (@ExecuFix) September 16, 2021
AMD's novelty is called X3D (or 3D V-Cache), one new packaging technology hybrid which will essentially allow the producer to drastically increase the size of the L3 cache of the CPU, all to the clear advantage of performance. The latest rumors about it come from a tweet from ExecutableFix and concern the next EPYC processors codenamed Milan-X, as mentioned, a refresh of Zen 3 with X3D.
EPYC Milan-X will be the transition to the more promising 5nm EPYC Genoa, the same fate that will befall the Ryzen desktop variants 6000 awaiting the first Raphael solutions. Returning to Milan-X instead, the top model – EPYC 7773 X – will always be a chip at 64 core / 128 thread , boost frequency up to 3.5 GHz and a TDP of 280 W ; the substantial difference with respect to the current models lies precisely in the third level cache which, thanks to X3D, will arrive at 768 MB , a disproportionate amount if we think that the current EPYC Milan stop at 256 MB.
At the moment there are no details on the performance of these new EPYC Milan-X, while the first rumors on prices want the top-of-the-range model priced over . 000 dollars; cost apart – certainly justified given the market segment – what piques the interest of the experts is to see the X3D technology applied to desktop processors (gaming in the first place).