Apple announces Business Essentials, flexible all-inclusive plans for small businesses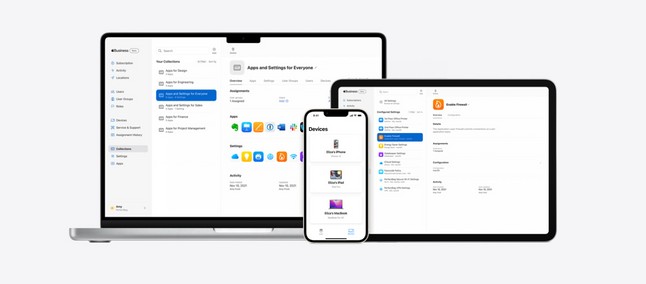 Apple announced Apple Business Essentials , a new service for companies up to 500 employees which groups, in three flexible subscription plans, the management of devices , Apple Support 24 hours on 24 and 7 days a week, and secure iCloud storage
The service, currently in beta in the United States only , it will be available from next spring and is described by Apple as a "complete solution" that offers small businesses the ability to easily add new users by allowing remote configuration, implementation and management of Apple products.
All mechanisms are also offered with Apple Business Essentials security for IT staff, including the ability to set encryption FileVault and Activation Lock which prevents the use of a device in case of theft or loss.

Employees who use personal devices even for work they can separate their company data from their personal data with a new registration function user-based encryption able to ensure that private data remains private while corporate data remains safe. In addition, the service provides for each user a dedicated iCloud account for backup and collaboration.
Businesses also have the ability to add a service to all employee devices via Apple Priority Support. When a company adds AppleCare + for Business Essentials to their plan, they will have access 24 hours on 24, 7 days a week telephone support, training for IT administrators and employees, and up to two device repairs included per plan each year. Employees will be able to request assistance directly via the app and will have an Apple qualified technician who can come to the site within 4 hours.

The three available plans can be customized to support each user with up to three devices and up to 2TB of storage in iCloud with prices starting from 2, 99 dollars per month, with optional AppleCare +.