Audi Q5 e-tron, the new electric SUV debuts. For the Chinese market only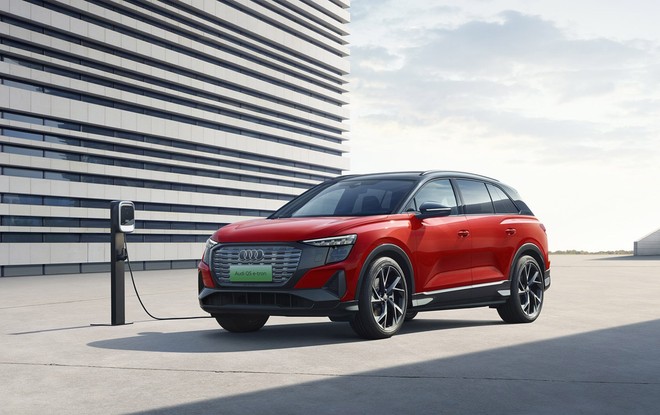 The new electric SUV Audi Q5 e-tron was officially unveiled at the Guangzhou International Automobile Exhibition. This is the series version of the concept that the German manufacturer had unveiled in April 2021 at the Shanghai Motor Show. This new battery-powered model is designed exclusively for the China market . Therefore, we will not see it arriving on the roads of the Old Continent. Thanks to the official presentation of this model, the first technical information has finally been shared.
THREE VERSIONS

Its design is no surprise as we had already seen it in the photos emerged from the website of the "Ministry of Industry and Information Technology" of China (basically the Chinese Ministry of Industry and Technology). The SUV measures 4. 876 mm in length, with a step of 2. 965 mm. The front has clear references to that of the e-tron family vehicles. In particular, the classic large Singleframe grill stands out. However, the proportions are very similar to those of the Volkswagen ID.6, another model developed for the Chinese market.
vehicle always rests on the well known MEB platform developed by the Volkswagen Group for its electric cars. Thanks to the large wheelbase, the new Audi Q5 e-tron has three rows of seats to be able to carry, depending on the version, up to 7 passengers.
This new electric SUV for the Chinese market will be built by the joint venture between the Volkswagen Group and SAIC. Three versions that will be offered to the public: 35 e-tron, 40 e-tron e 50 e-tron . The first model has a single electric motor of 132 kW (179 CV) powered by a battery from 55 kWh. The second version always offers a single electric motor with a power that rises, however, to 150 kW (204 CV). In this case, the accumulator has a capacity of 55, 4 kWh. Finally, the top of the range model offers a powertrain with double electric motor of 225 kW (306 CV). In this case, also the all-wheel drive is present. Battery always from 83, 4 kWh.
As mentioned, there is no hope of seeing the new Audi Q5 e-tron in Europe. However, a new battery-powered SUV from the house of the 4 rings will soon arrive for the Old Continent market as well. Next year, in fact, the new Q6 e-tron will debut, a model that on paper seems to be interesting since it will be based on the new PPE platform developed in collaboration with Porsche. Platform on which the new electric Porsche Macan will also be born.