Blue Origin unveils the six passengers of the next space trip: departure on 9/12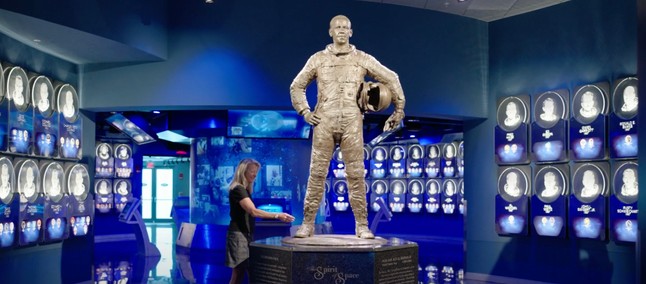 Blue Origin is preparing to face another space trip and has revealed which will be the six new crew members. After having made William Shatner (unforgettable interpreter of Captain Kirk of Star Trek) board the RSS capsule in the previous launch, Jeff Bezos' aerospace company can count on others prominent names who will help to give prestige to the mission NS – 19 scheduled for next December 9 .

We start with Michael Strahan , two Emmy award winner and co-host of ABC television show Good Morning America. Strahan admitted that he had no hesitation in taking advantage of the ability to fly into space as soon as it was given to him by Blue Origin. For about two weeks it has started the training course in view of the launch.
The more or less direct link between the crew and the space is emphasized instead by Laura Shepard Churchley , eldest daughter of the American astronaut Alan Shepard. The occasion could not have been more favorable to promote the "product" (space tourism): for some time now Blue Origin has chosen to pay homage to the cosmonaut by dedicating the name of the rocket to him, New Shepard. Alan Shepard was the first American to fly into space and the fifth man to walk on the moon. Daughter Laura commented on her future venture with a joke:
An authentic Shepard will fly on a New Shepard
The other four crew members are not honorary guests, but paying passengers . They evidently think differently from Tom Hanks and believe that the benefits of the experience outweigh the costs:
Dylan Taylor , space industry executive (is president and CEO of Voyager Space) and philanthropist;
Evan Dick , engineer, executive (he is CEO of Dick Holdiings) and investor in the NewSpace sector;
Lane Bess , founder of Bess Ventures and Advisory, a fund that supports the most innovative technology companies;
Cameron Bess , content creator. Cameron describes himself as pansexual and is proud to represent marginalized communities in the hope that his space travel will inspire others.
Blue Origin's next mission will be also the first in which two crew members are linked by the relationship between father (Lana Bess) and son (Cameron Bess). The ingredients for a (space) trip out of town are all there. This is the third New Shepard flight with crew aboard this year , the sixth in the program 2021, and the nineteenth of its history. Take off will take place from Launch Site One in West Texas at 16. 00 (Italian time) of next December 9 , barring unforeseen events.