Daimler and Total together for hydrogen transport: the details of the agreement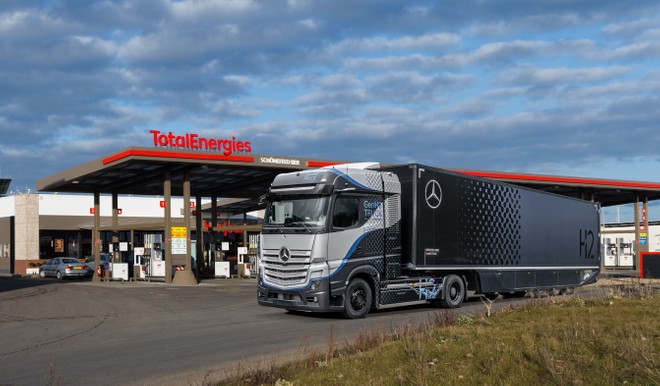 Good news comes from Daimler and Total on the issue of pollution of wheeled freight transport. The two "big names" of mobility have signed a collaboration agreement with the ambition of promoting the creation of infrastructures for the use of hydrogen as a fuel that can break the dominance of those of fossil origin. There are many companies that believe in a future where the most abundant element in the universe can help resolve the intolerance of the planet.
L 'agreement signed by Total – among the world's top four fuel companies – and Daimler – which, it is worth mentioning, owns a galaxy of transport-related companies including Mercedes Benz, Smart and Setra – will focus on supply and logistics of hydrogen , supply of the same in service stations, development of vehicles heavy hydrogen, building a customer base and other areas.
By 2030 Total aims to manage 150 service stations delivering hydrogen located in Germany, the Netherlands, Belgium, Luxembourg and France, while one of the objectives of Daimler is to propose by 2025 , via the Truck division, heavy hydrogen vehicles to customers in the Central European regions. Daimler and Total are both members of the H2Accelerate consortium.
We are fully focused on the Paris on the climate and we want to actively contribute to the decarbonisation of road freight transport in the European Union. As for the future transportation of CO2-neutral freight, it will be made possible by hydrogen-powered fuel cell trucks and battery-powered trucks. To do this, we want to create a pan-European hydrogen ecosystem together with strong partners such as TotalEnergies.
The statement by Karin Rådström, CEO of Mercedes-Benz Trucks, is echoed by Alexis Vovk, President Marketing & Services of Total:
Hydrogen will play its role in decarbonising mobility, especially in European long-haul transport. Total is actively exploring all aspects of the hydrogen value chain for mobility, from production to supply and distribution, and wants to build a multi-energy company with the ambition of being carbon neutral by 2050. Therefore, the creation of a European network of hydrogen stations is one of the challenges we want to address. We are proud to partner with a motivated player like Daimler to develop CO2-neutral truck mobility.