Dynamic theme of Android 12, work in progress for Oppo, Xiaomi, OnePlus and many others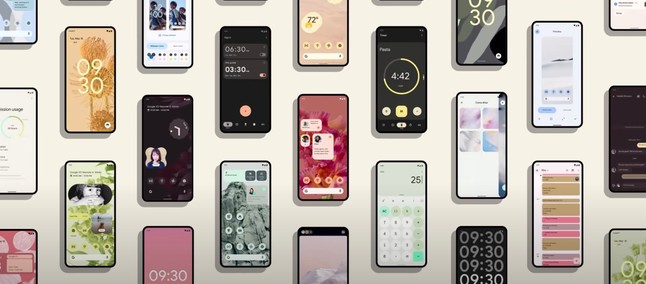 It seems that several Android smartphone manufacturers are already working on their implementation of the Android dynamic theme 12 , without waiting for Google: clues were reported by Mishaal Rahman, former editorial manager of xda-developers , directly in the source code of the operating system itself. Among the confirmed names we find:
Lenovo
Motorola
Nokia (HMD Global)
OnePlus
Oppo
Realme
SHARP
Sony
TCL
I live
Xiaomi
Plus others from local producers, such as Infinix and Itel, who are not present here.
This is interesting. The source code for Monet (Android 12 's wallpaper-based theme system) will be released with Android 12 L, but based on this code change for the Material Components library, it looks like a bunch of OEMs are implementing dynamic color support themselves. https://t.co/Oufh9zxDnZ pic.twitter.com/9obGYbbMDC

– Mishaal Rahman (@MishaalRahman) November 11, 2021
It is important to contextualise the information just emerged with the development dynamics established by Google. The dynamic theme is one of the most eye-catching features of Android 12 and the new Material You design: in a nutshell, the colors of various parts of the system graphic interface change according to the background image set. A software takes care of analyzing the images and generating an organic and coherent color palette. Google called this software Monet, and it hasn't been made open-source yet: for now, let's say, it's exclusive to Pixel smartphones. If another device also received the update to Android 12, it would still not be able to implement a theme dynamic – at least not relying on Monet. Google said it will open-source Monet on the occasion of the launch of Android 12 L, so next February roughly.
So third party manufacturers are faced with two choices: either wait for Google or develop a their palette generation software . And it seems that many are following the second path (technically there is also a third option, and that is not to support the dynamic theme: it is not mandatory, in fact). The easy consequence to imagine is that, with the same starting image, the palette generated by Monet could be different from the counterpart Oppo, or Motorola, or Sony and so on.
It is It is interesting to note that the list of interested manufacturers is inserted directly into the Material Component library, instead of being for example a property that can be declared. It could mean that new vendors will not be able to support the feature until the library code is updated. Finally, one cannot avoid noticing the illustrious absence par excellence, namely Samsung ; which, however, as already seen in the Android beta 12 in distribution, some form dynamic theme supports it. Evidently the South Korean company has decided to develop its own service from top to bottom, without taking advantage of the Material Component library. This may create compatibility issues in some third party developer apps.