Emoji, here are all the news coming: there are 37 unpublished ones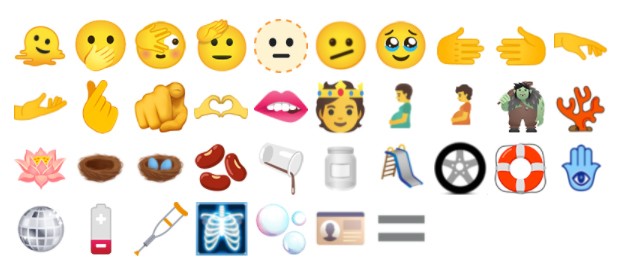 In the 2021 we will have to "settle" only with 37 new emojis . The Unicode Consortium has officially announced which smileys that we will be able to start using in our messages in the coming months. Unlike in previous years, due to the pandemic, there was a delay of several months in the development of Unicode 14. 0 and the official release has been postponed from March to September. To see the new emojis on our devices, however, we will have to wait a few more weeks.
Among the 838 new characters in #Unicode 14 are 37 new #emoji , along with new emoji sequences, that are expected to show up on 📱s, 💻s, and other platforms sometime next year → https://t.co/deSr1g6m8k # 絵 文字 pic.twitter.com/xuTf8Os02 K

– The Unicode Consortium (@unicode) September 7, 2021
The final list of emoji candidate had already been shown by the Unicode Consortium in preview last July, on the occasion of World Emoji Day. The new emojis, as mentioned, are 37 but become 122 considering all variants and skin tones.
In addition to a series of handshakes and hearts made with two hands or two thumbs, there are several "smiley faces" with eyes that hold back tears, with a peeping eye, one that melts and one put to attention.

There is no shortage of a troll icon, an x-ray, low battery, biting lips and some related to pregnant men. There are not many medical-themed emojis, a lack also underlined by an American doctor in recent days according to which these could help a large number of patients to express their condition but also doctors to make themselves understood.
The Unicode Consortium, for the first time, is also officially adding support to the different shades of the skin regarding the handshake, which Apple had done on its own. This change, therefore, will unify the skin tone regardless of the operating platform that will be used.