Evway, the app is updated with new functions to improve the charging experience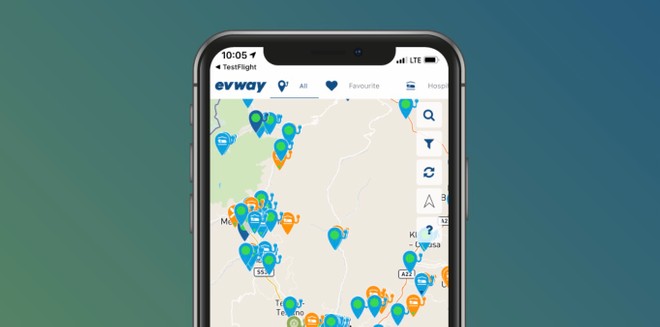 The evway application has been updated with the introduction of some new features aimed at improving the travel experience aboard an electric car. We remind you that through this application for iOS and Android smartphones it will be possible, for users in possession of a battery-powered vehicle, to fill up with more energy 250 thousand recharging points in Europe, of which over 25 thousand in Italy. Thanks to the possibility of being able to use only one app, the charging experience is significantly improved.
Let's see, therefore, what are the innovations that have been introduced .
NEW MAP INTERFACE
First of all, there are some news regarding graphics. The "Map" interface has been revised to improve the user experience. Specifically, all the functions have been moved to the bottom of the map to allow a more complete and broader view. Also, the marker loading speed has been improved. Another novelty concerns the map filters that have been made more visible to identify the stations of interest more quickly. Following the update, the filters for the GREEN and FAST stations have also been added.

TO all this is added an improvement in the CO2 calculation .
If you recharge on a station that certifies the renewable energy source, 1kWh is equal to 612 grCO2eq not released into the atmosphere. In the other cases it is equal to 381 grCO2eq.
News also for the recharge sessions. Now, the energy supply statistics can be viewed through the web by accessing a specific page using your evway credentials. The personal area has 3 interfaces:
overview: total sessions, kWh absorbed, costs
my sessions: detail of each session
my invoices: invoices

The latest change concerns the markers on the map. Operators offering an unreliable service or unjustified roaming prices were excluded.
To date there are over 350. 000 recharging points in Europe: unfortunately there are local operators that offer roaming services at unjustified prices and others that have poor quality of service, do not allow to recharge in a reliable, simple way , easy and fast. Faithful to our mission to offer you the best possible charging experience, we inform you, therefore, that the stations of the networks that fall within the previous cases will no longer be displayed and made available on our App.
Please note that in addition to the app, you can use a convenient keyfob , that is an RFID keychain that allows you to activate the recharge simply by bringing it close to the column. To use the service it is necessary, first, to buy some credit which is converted into "ladybugs", a sort of digital currency with which to pay the top-ups.
evway |

Android

| Google Play Store, Free
evway |

iOS

| Apple App Store, Free