Ford announces: fast electric refueling like gasoline in the future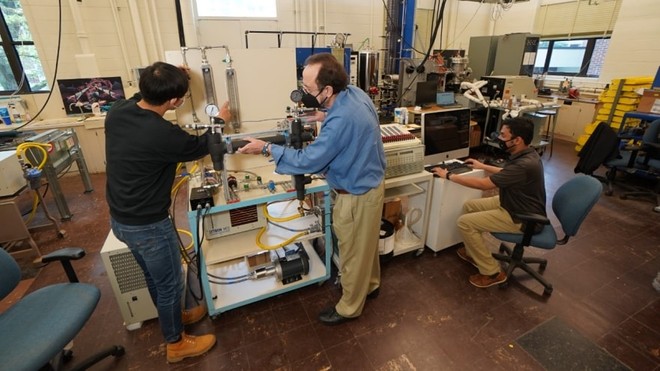 The researchers of Ford and Purdue University have come up with a system potentially capable of making electric vehicles even more attractive and accessible. One of the major obstacles to their widespread diffusion is undoubtedly the reduced mobility on long distances compared to to an equivalent internal combustion vehicle: the autonomy with a full tank is often less, and once the charge is exhausted, the longer times to restart must be taken into account.
A full tank of fuel takes a few minutes during which you put hundreds of km in your pocket, while for a full tank of electricity the times are longer and above all dependent on the power of the column (in the EU only one in nine is fast) and by the limits of current technologies. Ford and Purdue have announced as part of their collaboration that they have found and patented a solution potentially able to match the recharge times to those of a full tank of petrol or diesel fuel and to be working to make it.
The limitations of current technologies are known, and Michael Degner of Ford Research and Advanced Engineering summarized them as follows:
Today the charging speed is limited by the danger of overheating. Faster charging requires a greater amount of current to flow through the charging cable, but as the current increases, the amount of heat borne by the cable also increases, which therefore must be dissipated to keep it operational.
And it's right on the charging cable which focuses the innovation of Ford and Purdue. Researchers have developed an unprecedented cooling method which involves a phase change of the liquid refrigerant, from liquid to gaseous. The result is a more efficient process than the current ones and therefore able to better dissipate the heat developed during charging. Consequently with the same cable temperature it is possible to pass more current, shortening the charging times .

Car 14 Set
To equalize the times of the cars that accompanied us from the beginning from the last century to today it will be necessary that the entire charging process evolve , not only the cable. It is necessary that the evolution of all the components that carry out the process travel in parallel, so it is better to leave aside the enthusiasm, at least in the immediate future.
The charging times of electric vehicles can vary considerably, from 20 minutes in a given column up to requiring several hours on a household outlet, and this can generate anxiety among people considering purchasing an electric vehicle – they say from the Department of Mechanical Engineering at Purdue University. We have a solution for situations where the amount of heat produced is beyond the capabilities of today's technologies.
In about two years the team expects to arrive at a prototype that allows to quantify the advantages on charging times thanks to the new cooling system for the cables.