Galaxy Z Fold4 and Flip4: first rumors about the features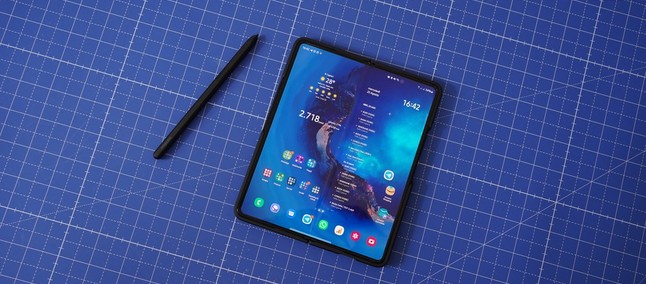 Samsung renewed its line of folding smartphones just over three months ago by launching Galaxy Z Fold3 (opening photo) and Z Flip3. The arrival of the next generation is not in question – there are already the first estimates on the expected production volumes for the 2022 – but, if the South Korean company respects the usual cycle of relaunching the offer on an annual basis, it will take about 9 months before getting to know the new Galaxy Z Fold4 and Flip4. It may seem premature to talk about it now but, as often happens, rumors anticipate the debut of a product by many months, and the same is happening with the range 2022 of Samsung leaflets.
WHAT TO EXPECT
So what to expect from future models ? In summary, according to the latest rumors:
Galaxy Z Fold4 :

Camera under display (UDC) improved
Camera under the display also on the external screen
Improved rear cameras
Reduced weight (thanks to the redesigned hinge)
Improved water and dust resistance
Battery capacity substantially unchanged

Galaxy Z Flip4 :

Camera chapter under the display: prototypes with and without UDC selfie cams are under development. Samsung at the moment has not yet decided which way to go.
The hinge could be improved by borrowing the future solution provided for the Fold4. This would result in a reduction in weight. Again a decision has not yet been made.
Improved water and dust resistance
External screen size and battery capacity essentially unchanged
Make predictions on the technical characteristics of products that will arrive on the market in so many months it is always a risky operation. The same South Korean source that spread the rumors points out that some aspects could change in the course of construction. For the moment it can only be said that the most of the alleged changes are likely (and desirable).
It is foreseeable, for example, that the UDC will be improved with the second generation developed by Samsung, given that the first was more than anything else a test to try this type of solution, but it is not yet able to offer a quality comparable to traditional modules. It is equally plausible that, if the next generation is considered mature enough, Samsung may decide to integrate the UDC on the Fold4's external screen as well. Even the performance of the rear cameras of the Fold3 must be counted among the aspects that can be improved on the device and it is therefore reasonable to expect that its heir will make the necessary changes. The same goes for weight and resistance to dust and water, refinements that fall within the physiological evolutionary path of the two smartphones. online, the new rumors believe that the two smartphones will be launched on the market in the same period as their predecessors, approximately therefore towards August 2022.