Gaussin H2 Racing Truck: here is the electric and hydrogen super truck for the Dakar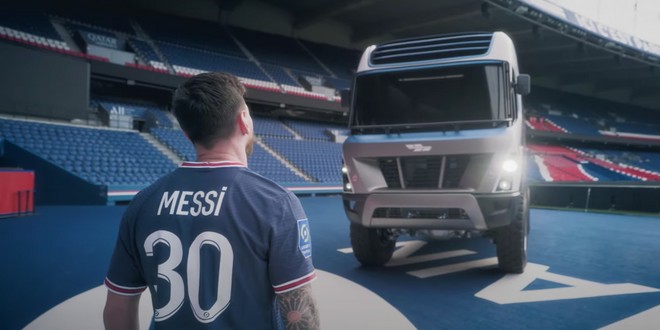 Gaussin we know it for the self-driving electric vehicles used in transport logistics. Now the brand wants to dare even more, and presents H2 Racing Truck , defined by the company French " the racing truck 100% hydrogen and most powerful electric ever made ". And this is not a concept: the truck is absolutely true, and will participate in the World Rally-Raid Championship with the Dakar
in Saudi Arabia .
It is not a concept, it has been said, but it still wants to be a "demonstration" vehicle, to show the performance and reliability of a vehicle that anticipates the first road trucks arriving in the 2022 . " This project ", says CEO Christophe Gaussin, " has become a reality and represents a technological result and the result of years of work and experience in zero-emission mobility ".

The secret of H2 Racing Truck is the light body made around the hydrogen and electric powertrain based on the proprietary platform. Hydrogen is refueled in 20 minutes for an autonomy of 800 kilometers, the battery changes in 3 minutes for a range of 400 kilometres.
The truck was designed by Pininfarina and is available in five different models : road tractor, self-driving, for distribution, for construction and for racing.
TECHNICAL FEATURES

2 electric motors each from 300 kW
380 kW of fuel cell
83 kWh of batteries
80 kg of hydrogen
advanced cooling system
super light chassis expressly designed to integrate the electric-hydrogen system
maximum speed of 140 km / h
autonomy in competition of 250 km
hydrogen refill in 20 minutes
As testimonial, some players of Paris Saint-Germain, including Donnarumma and Messi.