GoPro Hero 10 Black official, new processor and 4K at 120 fps!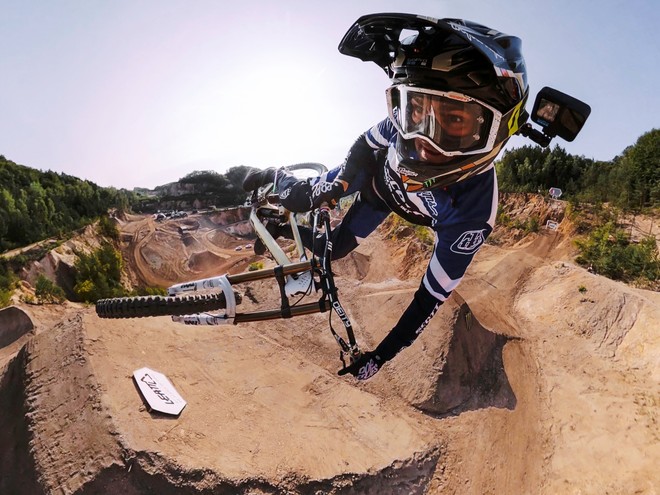 Like every self-respecting month of September also in this one 2021 here comes the new GoPro . After last year's Hero 9 Black (here our review) the queen of action cameras returns to the stage in its tenth incarnation. Actually if we count the entry level versions and the 360 we arrive at something more than ten models but let's say that we are at the tenth "master release". Nothing changes in the name, we always talk about Hero 10 Black , while what we find inside the small body changes substantially.
interesting of this new model is in fact hidden inside the action cam and is represented by the new GP2 processor which, after three generations, replaces the previous GP1. According to the company, the computing power has doubled and, trusting only the frame upgrade of the various shooting modes, I would say that we are there. At all resolutions the maximum available framerates are doubled and therefore we now have the possibility to run in:
5.3K a 60 fps
4K a 120 fps
2.7K a 240 fps
But in addition to this the new processor also allows to have a much more reactive interface and a much faster touch response . In general the new Hero 10 Black should be a step forward in terms of experience of use and speed in the execution of any type of operation .
Obviously also improves the quality of the images: thanks to the greater computing power, even the image processing algorithms can work more quickly and deeply on the data flow captured by the sensor and thus produce more beautiful videos in different contexts. Among these we certainly find the scenes with low light which are decidedly brighter and rich in greater detail, but also the stabilization which, although it might have already looked great with last year's Hypersmooth 3.0, takes a further step forward with version 4.0 .

The horizon alignment tool has also been made more effective being now able to compensate for a degree of inclination practically double compared to last year; let's talk about 45 degrees against i 27 of the Hero 9 Black. This is a very useful function when we need to stabilize very large lateral oscillations, such as those of a boat or an off-road vehicle on a very bumpy path.

Beyond to these innovations obviously linked to the processor update, GoPro introduces with the Hero 10 Black a new lens cover. Made with a glass that is more resistant to bumps and scratches, the new cover is always removable and replaceable but is now equipped with a more hydrophobic treatment and a lower tendency to reflect light, reducing the risk of causing flare-ghosting.
The camera body remains the same: the structure is made of metal and is coated with an anti-scratch rubber coating. The good news is that you gain 5 grams of weight. The metal retractable feet also remain identical, allowing us to attach all the accessories already available to us as the size and shape have remained exactly the same. No compatibility problems, therefore, also for the Media Mod, which remains the one also used for Hero 9 Black. The best performance of the front display should be noted, the update frequency of which passes from 20 to 30 Hz .



And the batteries? To the delight of the owners of the previous model, these too do not change. The form is the same from 1. 720 mAh which guarantees about an hour and twenty minutes of shooting in 4K at 60 fps. Obviously it goes down a little by increasing the framerate but the good news is that the new processor shouldn't consume much more than the previous one.


News also regarding the Quick app, especially in relation to the data transfer . Hero 10 Black introduces the possibility to download photos and videos on your smartphone using a cable USB-C, in the case of Android smartphones, and a Lightning adapter for cameras plus USB-C cable for iOS smartphones. In addition to the wired transfer, there will also be the possibility to automatically upload files to the cloud on our GoPro account. Just configure the tool correctly and, every time the GoPro is charged and connected to WiFi, it will automatically transfer the files to our account.

Features of HERO 10 Black:
New GP2 processor
Video: 5.3K 60, 4K 120, 2.7K 240
Frame extraction up to 19, 6 megapixels
Photo a 23 megapixel
P. Better returns in low light conditions
Local Tone Mapping (LTM) and 3D Noise Reduction (3DNR)
Latest generation HyperSmooth 4.0 video stabilization
Tilt limit of alignment with horizon increased to 45 degrees in the videos in 4K 60, 2.7K 120 And 1080 p 120
Front color display, with higher frame rates for smoother live preview
Faster and more responsive rear touch screen with touch zoom
Faster content transfer
Three ways to transfer content: upload to cloud, wireless transfer and new cable transfer to phone
New protective lens with water repellent design
Battery from 1720 Rechargeable and removable mAh
TimeWarp 3.0 with Real Speed ​​and Half Speed ​​
Live streaming at 1080 p with HyperSmooth 4.0 video stabilization
Webcam mode a 1080 p
Advanced tools: HindSight, LiveBurst, Scheduled Acquisition and Acquisition Duration
SuperPhoto + HDR
Timed night video
Photo in RAW format
Digital lenses offering Ultra Wide (SuperView), Wide, Linear and Narrow perspective
Voice control with 13 commands in languages ​​and 6 accents
Three microphones with advanced wind noise reduction
Stereo audio + RAW
Presets + Custom Screen Shortcuts
Built-in folding mounting rails to attach the camera to GoPro mounts
Rugged and waterproof up to 10 m
Compatible with quick charge function
Compatible with Optional Multimedia Drive, Screen Mod, Light Mod and the Mod for Max lens ( support provided in the post-launch firmware update )
The official GoPro price list in Italy speaks of 529 euro for the new Hero 10 Black in what we could define it as the "Standard" bundle that since last year includes a hard case, worth approximately 40 euro, instead of the classic sales package. Instead, it goes down to 429 euro if you also purchase a subscription together with the action cam (49, 90 euros per year) to the GoPro service. Same price also for those who already have GoPro subscription active.