GTA: The Trilogy disappears in the PC version due to some controversial files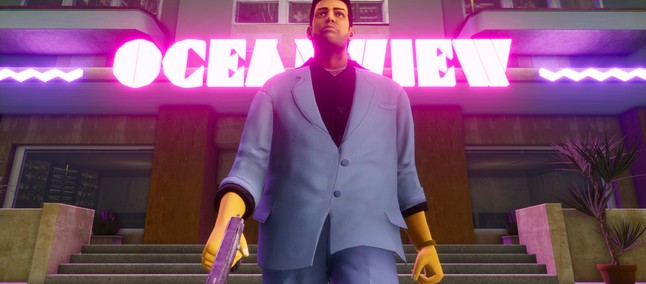 November was supposed to be a big day for Rockstar Games: the release of GTA : The Trilogy was expected by many fans willing to rediscover three classics of the past. However, things did not go as expected with a long series of criticisms from users for the quality of the porting on the console, considered too lazy and without the addition of particular values ​​that justify the return on sale, and even with the removal of the PC version from the Rockstar Game Launcher, the only store from which it was available for purchase at the time .
The reason for this choice, however, is not to be found in problems strictly related to the quality of the product, since Rockstar explained via Twitter that " is not available to be played or purchased as we remove some files unintentionally included in this version ".
The Rockstar Games Launcher is now online, but GTA: The Trilogy – The Definitive Edition is unavailable to play or purchase as we remove files unintentionally included in these versions. We're sorry for the disruption and hope to have correct ones up soon. https://t.co/NiMNXUKCVh

– Rockstar Support (@RockstarSupport) November 13, 2021
The company did not explain what these files were but on the internet some users have found the possible reasons for this temporary removal of the product: in fact, some would have remained in the code songs originally removed due to licensing problems but also files containing the team's notes and notes that date back to the time of game development.
In GTA: San Andreas – which will also arrive in VR in the future – some references to Hot Coffé would also have been left , a mini game with some explicit sex scenes that Rockstar Games intended should not have been accessible to users but, remained in the product code, eventually jumped out creating a long discussion all inside the passion community ions and the company. However, it does not seem that GTA: The Trilogy presents Hot Coffé in its entirety and that the mini-game can be activated, but the perplexities remain about a work that obviously has not been done with all the trappings of the case.
If you wonder, the Hot Coffee code is present in every version of the game, it just doesn't work in later re-releases.
1. There are no naked / semi naked GF models.
2. No Hot Coffee animations. pic.twitter.com/RB8X9ygqNY

– Vadim M. (@NationalPepper) November 13, 2021