Horizon Forbidden West, the developers take us to discover the game world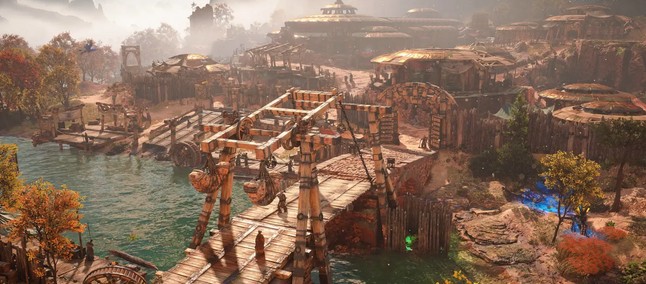 To visit the world of Horizon Forbidden West it will be necessary to wait a little longer: the title, initially scheduled for this year, has been postponed and will be released instead on PS4 and PS5 on 18 February 2022 . But we can begin to know this world , already today thanks to the post published on the official PlayStation blog where the developers of Guerrila Games show us and reveal details.
– PlayStation (@PlayStation) November 22, 2021
First of all, the lore of this new Horizon is the result of a close collaboration between those who are involved in materially realizing the game setting, and the writers who laid the narrative foundations. Each village on the map is strongly characterized , and its appearance reveals the culture of the tribes that inhabit it. Like the Nora , who reject technology and are mainly dedicated to hunting, oi Tenakth , warrior-like clan: and in fact, exploring their inhabited centers we will notice how they are always in turmoil to prepare for the next conflict .
Then there are also the Utaru , dedicated instead to agriculture and with a great attachment to their territories, and there is also a larger and more articulated pole, namely Aspracatena , an Oseram frontier outpost that attracts criminals and unscrupulous individuals. The NPCs immersed in this world, Guerrilla Games specifies, will have a behavior in line with the context that surrounds them, and particular attention has been paid to the rendering of the animations: the hope is therefore to limit that somewhat robotic effect that the cutscenes have. video games (including Horizon Zero Dawn) animated with AI when you are not immersed in key moments in history, but in one of the many possible interactions in the game world.
But the news did not end here: tomorrow, Tuesday 23 November , the first episode of the unpublished GAIA podcast dedicated to Horizon Forbidden West. The name of this debut episode is "All About Aloy", and as evident from the title it will focus on the figure of the protagonist.
Introducing GAIA Cast!

From the team at Guerrilla, GAIA Cast is an upcoming podcast that dives deep into the Horizon universe.
Our first season, focused on Horizon Zero Dawn, debuts this Tuesday, 23 November, with our first episode: All About Aloy. #HorizonGAIACast pic.twitter.com/pA8z0TRcEG

– Guerrilla (@Guerrilla) November 22, 2021