How I Met Your Father, the spin-off will arrive in January 2022 on Hulu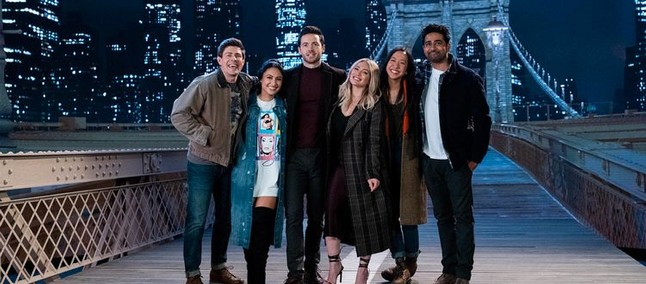 Seven years have passed since the conclusion of the sit-com How I Met Your Mother but together to the sacred monster Friends and the most recent Big Bang Theory represents one of the most appreciated productions of this genre globally. The success of HIMYM was inextricably linked to the characters who in some cases became iconic, one above all the Barney Stinson played by Neil Patrick Harris, followed by the protagonist Ted Mosby by Josh Radnor, Robin Scherbatsky by Cobie Smulders and the indissoluble couple formed by Marshall Eriksen and Lily Aldrin played respectively by Jason Segel and Alyson Hannigan.
If the famous sit-com will remain for many "leggen … don't move … daria! Legendary !!!" , it will be really difficult to achieve the same effect with the upcoming spin-off, How I met Yout Father , of which we talked to you a few months ago, and from the first information it is clear that there is no other character of character in sight capable of darkening the original Barney Stinson.
But we want be optimistic and wait before judging, and today's news conf he says we won't have to wait too long to formulate an accurate opinion. We finally have a date for the premier, set at 18 January 2022 to begin from the Hulu network. Here is a brief synopsis of the spin-off, which in hindsight does not differ too much from that of the original sitcom.
In the near future, Sophie (Duff) will tell her son the story of how she met her father: a story that catapults us back into the year 2021, where Sophie and her close-knit group of friends are trying to figure out who they are, what they want out of life and how to fall in love in the age of dating apps and unlimited options.
How I Met Your Father will be played by Hilary Duff, Christopher Lowell, Francia Raisa, Tom Ainsley, Tien Tran and Suraj Sharma, with the presence of some recurring actors such as Kim Cattrall, Daniel Augustin, Ashley Reyes and Josh Peck. Among the executive producers, in addition to the famous Carte Bays and Craig Thomas, we will find Aptaker, Berger, Pam Fryman and Adam Londy.
Closing and waiting for information on the arrival of How I Met Your Father in Italy, we leave you to the announcement video posted by Hulu with some cast members
Haaave you heard? #HIMYF premieres January 18, only on Hulu. pic.twitter.com/D4d9pf7SFO

– Hulu (@hulu) November 17, 2021