Hyundai pays homage to the Grandeur with an electric restomod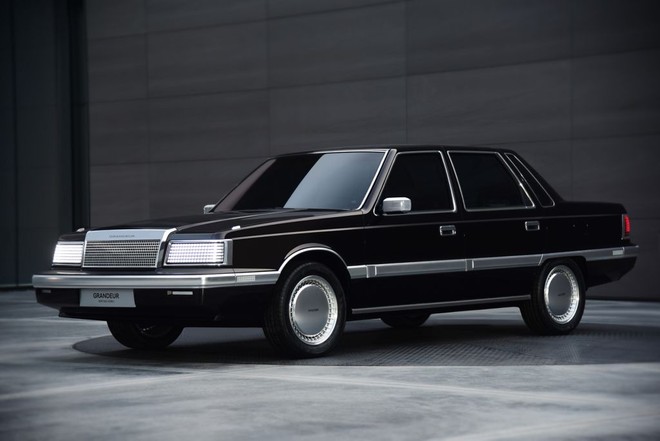 Hyundai has decided to pay tribute to its flagship Grandeur of the 1986 making a electric restomod , a unique model that is currently on display at the Busan Motorstudio until 14 November. Subsequently, it will also be exhibited at the Seoul Motorstudio, from 16 to 21 November.
REVISITATION IN A MODERN KEY

Hyundai says that the design team wanted to re-propose the first generation Grandeur with a host of modern details without losing the charm of the original model. For example, the Parametric Pixel optical groups that we find on the new electric IONIQ 5 stand out. of the bumpers have been simplified and we also find a new grille with brushed aluminum finish.
Also stand out new side mirrors and rims without openings. The look, however, remains faithful to that of the sedan of the past. The interiors, on the other hand, change more. The cockpit offers a lot of luxury but also the latest technologies. For example, the front seats are upholstered in burgundy velvet with nappa leather sections. In the armrest of the center console there is a retractable compartment where it is possible to store valuables.
The original dashboard has been deeply modified. We find a large panel inside which there are two displays, one for the instrumentation and one for the actual infotainment. This is a clear reference to the latest models from the Korean carmaker. There is also a third vertical screen designed to manage further functions of the car. The design of the steering wheel is a precise reference to that of the original model although it has some switches to manage the infotainment. The airplane-style gear selector is very particular.
Inside the Grandeur we also find the 4way4 sound system developed by South Korean sound designer Guk-il Yu who controls 18 speaker. And the powertrain ? We only know that Hyundai has eliminated the internal combustion engine to be able to integrate the electric one. Details on the specifications were not disclosed, however. We know nothing about power, performance and autonomy. It is unlikely that the manufacturer can subsequently share further information on the characteristics of this car.