IKEA and ASUS ROG also in Italy: the product line arrives on October 1st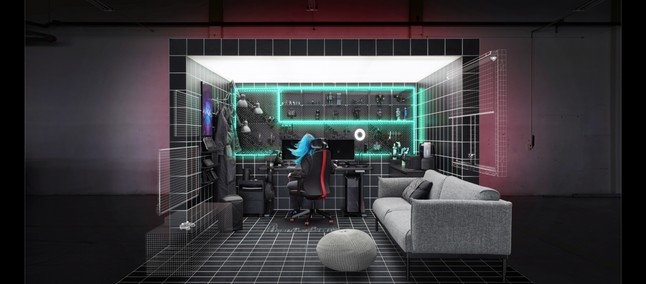 In February we told you about the release, at the time only in China, of the collaboration between IKEA and ASUS ROG . Today, on the occasion of the Ikea Festival, the company confirmed that soon the same collection will also be available in Italy. " All six product families are new and include both furniture and accessories " , explained Laura Chiatti, Country Manager of Ikea Italia, " there are gaming chairs, desks and a whole series of accessories. In Italy they will be available from October 1st, in stores and online. This is not a limited-time collection but is permanently included in Ikea's offer ".
About the collaboration he also explained to us that" partners are chosen to support us in projects that require skills that are not what we traditionally have. In the case of the collaboration with ROG, we realized that there is a user huge number of players in the world and our users themselves have expressed the need to have something dedicated. At that point we understood that we had to turn to those who are on the piece and understand it to create something together ".
The six product lines are: UPPSPEL, LÅNESPELARE , MATCHSPEL, GRUPPSPEL, UTESPELARE and HUVUDSPELARE . In fact it is the same collection already presented in China, but now we also know the precise location in terms of price.
DESKS

UPPSPEL is the top of the range. It is adjustable in height (between 72 And 120 cm) via a motorized system and in the back there is it is a slot for routing cables. Includes a USB port that can charge devices. The width of the top is 140 cm or 180 cm, the depth of 80. Depending on the width, the price varies between 450 euro and 499 EUR. If desired, there is also the possibility to purchase only the frame or the top.


UTESPELARE is cheaper . Height adjustment is manual and does not take place "in real time" (the relative leg supports must be unscrewed and screwed). The excursion is lower, from 44 to 69 cm, but the width is greater than 20 cm. On the back there is a metal grid to contain the cables, which can pass from the top thanks to a special slot. Available in two colors, black and gray, costa 99 EUR.
SEATS

MATCHSPEL allows you to adjust the height of the chair, the position of the neck support and armrests. Available in both black and white, costs 149 EUR .


UTESPELARE has different design and materials, more like a car seat. It does not have the adjustable neck support, but it costs less: 99 EUR for both the gray and black versions.

HUVUDPELARE is finally the cheapest, naturally with less possibility of adjustment and a more essential design but also a lower price, that is 45 euro .
DRAWERS AND SPACE ORGANIZATION

A bedside table with wheels and chests of drawers also from the UPPSPEL range. The back is open for cables to pass through, there is a headphone holder next to it. Available only in black, costs 99 EUR .



One perforated wall panel, again UPPSPEL , with related accessories for hanging and organizing gamepads, keyboards, cables and other accessories. It is in fact the black variant of the product that has been around for some time, while the accessories often show the ROG motif. The panel costs 20 euro, and includes four hooks for accessories; the same four accessories can be bought separately for 8 euros. There is also a wall unit, again with a perforated back panel style above that costs 69 EUR. Finally we point out the trolley for houses with wheels, from 12 EUR.
ACCESSORIES

Here is the complete list of accessories:
Cup holder that screws to the desk top with attached cup, costs 8 euros
Multifunctional pillow / blanket from 20 EUR
Thread take-up for mouse a 10 EUR
Wooden hand-shaped accessory holder a 20 EUR
Large size mouse pad (90 x 40 cm) a 12 EUR
Medium size mouse pad (36 x 44 cm) to 5 euro
Neck pillow at 8 euro
Ring light for streamer with included smartphone holder a 25 EUR
Floor protector from 30 EUR
Poster of 6 EUR
Finally, here are some of the environments that Ikea has created to illustrate possible configurations made using products resulting from the collaboration with ASUS ROG.