IONITY, premium charging experience? There is still work to be done | Trento and Brenner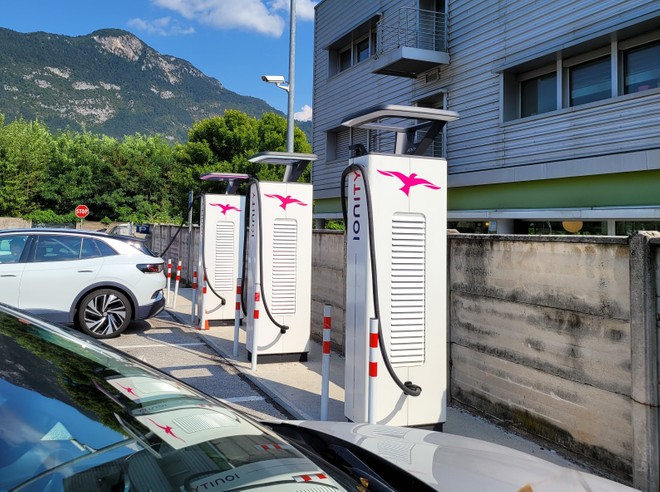 Charging electric cars on the road, a very delicate issue on which there is much discussion, indeed on which we often argue given that there is a continuous back and forth between those who still maintain that traveling with battery-powered vehicles is a problem if not impossible to travel (Tesla aside) and those who instead think that with "fast" large journeys are carried out with relative simplicity , just a minimum of programming is enough.
On our trip to the Munich Motor Show 2021 (you can review the Live) we have shown that to do 1. 200 km round trip with an electric is possible with times not too different from those traveling with an endothermic car (unless you are a traveler who does not stop even after 600 km for one bathroom stop). However, we must be realistic admitting that there is still work to be done on the infrastructure front, even the one that should guarantee a premium experience. Have you immediately thought about IONITY? Exactly.

Car 14 Set
The current project provides for the creation of 400 ultra-fast charging stations until 350 kW throughout Europe. The idea is to offer a premium charging experience . A person arrives with his electric car, connects it to the column and fills up with energy quickly (however, it depends a lot on the type of car) in order to return to travel. 'wait that the recharge ends, you can relax at an accommodation facility as a bar that should be present on site or at a very short distance (and I underline the very short word).
This, in broad terms, is the "format" of IONITY which in many ways follows that of Tesla's Superchargers. But is the charging experience really premium, or is there some flaw in the service offered too much?
WHAT HERBERT DIESS SAID?

A Luigi puzzled by the context of the charging station
At the beginning of August, a " of course " Herbet Diess , who works as the CEO of the Volkswagen Group which is among the shareholders of IONITY, had not had problems pointing the finger at the recharge service far from being Premium. The manager, in particular, complained that he had not found a free column at the Brenner station and that in the one in Trento one was out of order and there were no services available (bathroom and bar to be clear). An outburst that had caused a lot of discussion since the criticisms of IONITY would not seem to be a rarity.
On our return trip to the Munich Motor Show 2021 we used for the fast charging of ours Hyundai IONIQ 5 and Hyundai Kona Electric IONITY stations and we stopped right in those mentioned by the CEO of the Volkswagen Group. A compulsory choice, given the journey, if we wanted to make the most of the car's charging capabilities, especially that of the IONIQ 5. Was the German manager right?
LITTLE PREMIUM AND SOME PROBLEMS

At the IONITY station in Trento the columns all worked . What is really missing , however, is the structure which should allow people to relax while charging. The 4 energy supply points are located next to an ENI service station . The problem is that here there is only a kind of shop / bar that is not always open . Obviously, at night, it is not mentioned, but it can also be closed on public holidays such as Sunday.
On the way out, on Sunday 5 September, we found it closed and then we opted for a second stop at a motorway restaurant to eat and go to the bathroom. In the meantime, however, you can wait for full energy under a canopy (you see in the photo) "very frequented" by the electricians … On the way back, however, we found it open but the service is equal to that of a motorway restaurant , perhaps even less, and therefore low. And if you don't buy something, going to the bathroom costs 0, 19 EUR. Not the much-heralded premium experience by IONITY.
Luigi's intrusion: at the checkout they also say that they cannot invoice for purchases other than food at the counter. Biscuits, Beretta salamis and water for everyone with the company card? Forget it …


Precisely for this reason, on our return, since we had not yet had lunch and that the cars were particularly empty, we opted for a quick purchase at the supermarket which is about 7-8 minutes away. feet (walking a little there is also a small bar). Lunch we ate leaning against the car and the column while the Kona finished refueling. The IONIQ 5, on the other hand, had finished very quickly (with peaks of over 210 kW the pause is really reduced). And to Brenner ?

The station is located in a free covered car park. Opposite there is a shopping center, useful for refreshing yourself and going to the bathroom. However, the structure is open only during the day and not until late (it closes at 19). The problem, on the first leg, was the recharge. Trying with the Enel X app and card and with Evway, nothing, the energy supply didn't want to leave. A problem not with the columns as some cars from Austria were charging quietly.
As others were charging, we assumed that the problem was roaming between IONITY, Enel X and Evway . Regardless, the result was that the cars could not refuel. Fortunately, Gabriele got on the phone with the assistance of IONITY that remotely started the recharges that were given to us . Between tests and phone call we lost 10 / 15 minutes. But what would a less patient person do? Would she eventually be able to reload?
The problem, however, was then solved since al return the recharge started immediately .
THE WORK TO DO IS STILL A LOT

There is not the will to speak ill of IONITY but we must also say how things are if you want to improve a service born to be premium. It cannot be said that everything is always fine and justify the flaws. Electric mobility, today, is no longer the prerogative only of the first pioneers, but is spreading rapidly. It is no longer permissible to have to face similar situations. The recharge must start immediately with all the compatible apps and cards.
And if you also promise some service comfort to pass the time , this must always be there and must guarantee at least a decent quality . Hoping to find an open and decent bar doesn't rhyme with premium . There is therefore still a lot of work to be done and this does not only apply to IONITY because the charging experience, in general, is not yet optimal . Too often we still read about problems in starting recharging and apps that don't work.
Do you really want to push the spread of electric cars? So let the infrastructure operators commit themselves more to offering a higher quality service rather than just complaining that governments are putting little money into charging infrastructures. And time is running out because compared to a year ago, there is a lot more "traffic" at these ultra-fast charging stations. Especially on the outward journey, there has always been a continuous coming and going of cars that needed to recharge.
In addition to the higher quality, more columns are needed. in new sites but also in existing ones. We are sure Herbert Diess would agree with us …
LIVE ALLE 15: 30