"IPad zoom alters videos": the bizarre defense thesis convinces US judge

"iPad zoom alters videos": the bizarre defense thesis convinces US judge
November 2021 29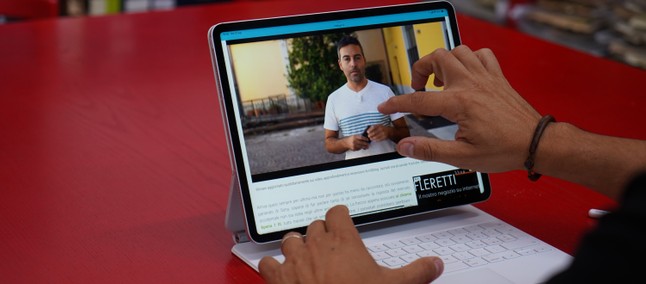 One thesis a to say the least extravagant on the functioning of the pinch to zoom of Apple devices convinced the American judge handling the case Kyle Rittenhouse to watch trial footage without zoom the images themselves. Kyle Rittenhouse is 17 year old (now of age) who in 2020 was arrested with the accused of killing two people of the Black Lives Matter movement and of injuring them a third in Wisconsin, during the clashes related to the Blake case.
load of the young man arrived through the videos posted on social networks by the demonstrators. The films capable of shedding light on the responsibilities of the 17 years have been shown to jury and judge through an iPad , and the most relevant phases enlarged with the pinch to zoom. A practice that has been attacked with arguments that are to say the least questionable by the defense attorney of Rittenhouse, even if he wants to postpone his lack of basic competence in the matter which is evident from the repeated use of the term "logarithms" rather than "algorithms" . The recording of the intervention, if you are curious, can be found in SOURCE .
BETWEEN ZOOM AND LOGARITHMES
iPads, made by Apple, have artificial intelligence that allows you to view things through three dimensions and logarithms. They use artificial intelligence and its logarithms to show what they believe is happening. So, in reality, this is not a more usable video (the reference should be to the magnification obtained via pinch to zoom, ed), but a reconstruction of what iPad believes is there, not what is actually there.
The bizarre defensive thesis about iPad pinch to zoom and its logarithms that falsify the images, however, convinced the judge, so the video was shown to the jury through a PC connected to a large screen. To a situation that, already in this way, would have had enough paradoxes is added the fact that the judge asked to the prosecution – not to the defense – the testimony of an expert who could prove that Apple devices do not manipulate videos through artificial intelligence, all during the approx. 20 minutes of pause between one phase of the procedure and the next.
It is curious that after years of technological evolution there is still such a level of ignorance about a "basic" mechanism such as pinch to zoom which is not certainly a recent novelty, and the functioning of which should be broadly clear to everyone, especially to those who manage the fate of people. Other than Metaverse …