Jurassic World Dominion, the T. Rex returns to the cinema! Here are the first five minutes of the film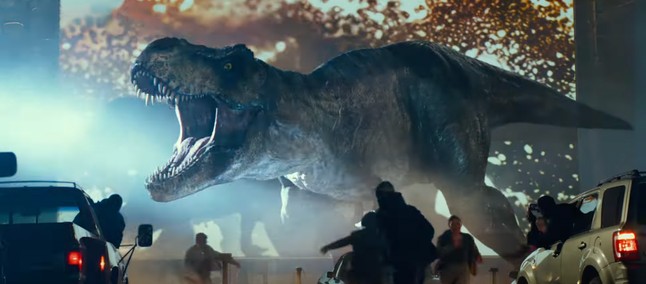 It's been a while since the last time the dinosaurs showed up. No, I am not 65 million years, but three, or those that have passed since the launch dated 2018 of Jurassic World – The Destroyed Kingdom to date. The work on the next chapter, Jurassic World Dominion , have been slowed down by the pandemic (the same fate has befallen many other films) , but director Colin Trevorrow announced the end with a tweet in early November.
And now, in a surprise move, Universal Pictures has decided to show us the film for the first time not with a short trailer, as is customary, but even with the prologue : that is, it is already possible, right now, to see the first five minutes feature film .
The opening scenes of Jurassic World Dominion are set in a time that the series had never explored, well before the events of the very first Jurassic Park. The world shown is the prehistoric world inhabited by various species of dinosaurs, and this debut sequence ends with a mosquito landing on the fresh corpse of a Tyrannosaurus Rex, sucking its blood and taking off. Remind you of anything?
Following is a sharp forware flash of just 65 millions of years, which hangs up the train of events to the wagon of the last chapter, of which this Dominion will continue the story : and therefore, a bit like in the second part of The Lost World – Jurassic Park, the theme will be that of the cloned dinosaurs that have reached and invaded the man-made world. Beginning, coincidentally, with a drive-in: the return of the T. Rex to the cinema couldn't be more literal than that.
The film, initially expected for last June, will arrive in theaters one year late: US launch is set for 10 June 2022. Below you can see the poster of the film, with the iconic shadow of the skull of the tyrannosaurus enclosed in a circle of amber (almost a bat-signal, chromatically): a choice that seems to visually and ideally tie this chapter more with the very first Jurassic Park del 1993 and with the aesthetics of Jurassic World.