La Casa di Carta 5 Volume 2, behind the scenes video and poster to pass the wait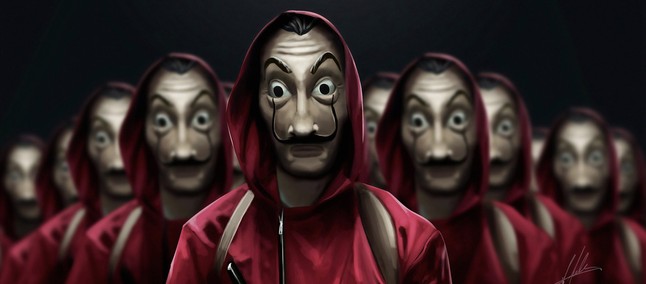 There are just over three weeks to go to the end of the articulated narrative arc of the TV series La Casa di Carta. The second part of the fifth and final season will be available from December 3 on Netflix and the conditions for a crackling closure are already there.
To deceive the 'wait, after the trailer released at the beginning of the month, a video behind the scenes
was released in the past few hours in which some of the leading actors tell what to expect, without hiding the emotion of having taken part in a project that has had a warm welcome to become one of the most successful Netflix series.
Professor Alvarò Morte begins:
in my opinion, this season is loaded with crazy tension
And Bogota (Hovik Keuchkerian) echoes him, summarizing the essential ingredients of the last five episodes: intensity, emotion, love … all together . But will the fans really be satisfied with a worthy ending? Palermo (Rodrigo de la Serna) has no doubts:
We are sure that fans of the series will not be disappointed . We know you will like it a lot. Something very powerful is coming
Helsinki (Darko Peric) instead highlights how important it was to be one of the protagonists of The House of Paper: I will do other things, but such a thing only happens once in a lifetime .
And l 'actor has more than one reason to rejoice, given that La Casa di Carta continues to position itself at the top of the most viewed content on Netflix ( see the data of the new Top 10 ). Also thanks to the media echo linked to the arrival of the final episodes, it is still among the most popular series on the platform. The result of an important work upstream, as underlined by Manila (Belén Cuesta) – staying inside it I understand why it is so powerful and so successful. Because there is a huge team, it is well made and is taken care of in detail. – and the work of Netflix which has the ability to identify local productions and bring them to international success (think also of the Squid Game phenomenon).

To answer the question posed by Denver (Jaimie Lorente) – how do you close such a big thing? – we will have to wait a little longer. In the meantime, another poster has arrived showing the protagonists with their unmistakable red overalls. Please remember the official synopsis:
Tokyo is dead. The enemy is still lurking inside the Bank of Spain, wounded but as dangerous as ever. Facing the darkest hour and the greatest challenge, the gang devises a bold plan to get the gold without anyone noticing. To make matters worse, the Professor makes the biggest mistake of his life.