Lego announced the new, mammoth 6,785-piece Star Wars AT-AT UCS set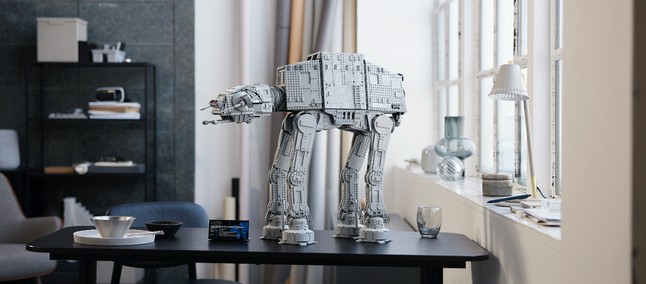 Star Wars lovers and, above all, Lego lovers started to put aside the 799, 99 euro that it will take you home the new LEGO Star Wars AT-AT set, the latest addition to the Ultimate CollectorSeries (UCS) line-up, a "must have".
The AT-AT (All Terrain Armored Transport) is a "quatropod" armored vehicle (called imperial walker in original language), first appeared in Star Wars Episode 5, " The Empire Strikes Back ", on the occasion of the Battle of Hoth to overcome the defensive shields of the Rebel Alliance, and again in Episode VI – Return of the Jedi and in several video games and comics based on the saga.
6. 785 pieces (a little less than 9. 090 of the Titanic), a height of 62 cm, width of 24 cm and a length of 69 cm are the numbers of this model which pays homage to one of the most iconic Star Wars vehicles. The AT-AT features a moving head, adjustable legs and side panels that open to showcase the highly detailed interior where General Veers, two pilots, a Snowtrooper Commander and four Snowtroopers will sit.
Luke Skywalker is also in the set which, thanks to a cable supplied, will allow you to recreate the famous scene of him swinging from the bottom in an attempt to block his paws. Two speeder bikes and a set of accessories for cannons complete the equipment. The set can contain up to 40 minifigures.
Lego also took care of the unboxing : Beautiful images of the final set are shown in the box from all angles and the pieces are stored in four inner boxes which combined show the famous Battle of Hoth scene.
The set, in sale from next 26 November, is part of the Ultimate Collector series, which also includes the LEGO Star set Wars UCS Millennium Falcon, the LEGO Star Wars UCS A-wing set and the LEGO Star Wars UCS Republic Gunship set released in recent months.