MacBook Pro, according to iFixit, the batteries can be replaced more easily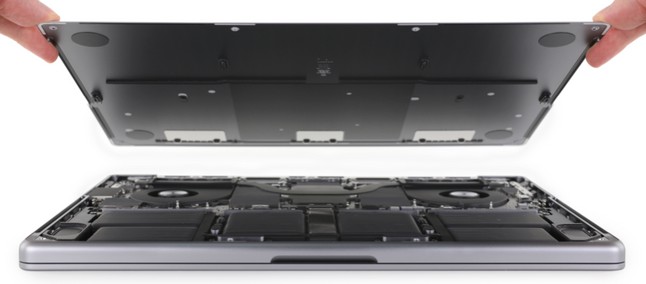 With the arrival on the market of the new MacBook Pro from 14 and 16 inches arrive, inevitably , even the first "teardowns", the piece-by-piece dismantling to discover all the components used as well as the degree of repairability.
After a first look offered in the past few hours by the well-known insider L0vetodream, who published 4 shots on Twitter showing the inside of the new MacBook Pro from 16, there is also a first "teaser" of the most anticipated teardown, that of iFixit .
The photo published by iFixit reveals a very interesting detail, namely the inclusion of elastic extraction tabs for the battery cells that will allow an easier replacement, even "do-it-yourself". The tabs are present on all four cells, and are similar to those that usually Apple also uses on the iPhone.

Once the trackpad has been removed, there are cutouts in the frame that allow access to the tabs which also serve to hold the two central battery cells in place. The teardown model is the 14 inch model but these pull tabs should be present also in the 16 inch MacBook Pro.
Since the release of the first MacBook Pro with Retina display in 2012, up to most recent MacBook Air and Pro with M1, the battery cells have always been glued in what is called "top case" on which the trackpad, keyboard, speakers and OLED bar (where present) are also attached. In case of replacement even just one of these elements it has always been (and still is) necessary to replace the whole top case.
On MacBooks Pro 14 and 646