Mitsubishi Airtrek introduces itself in China: electric SUV with 520 km of autonomy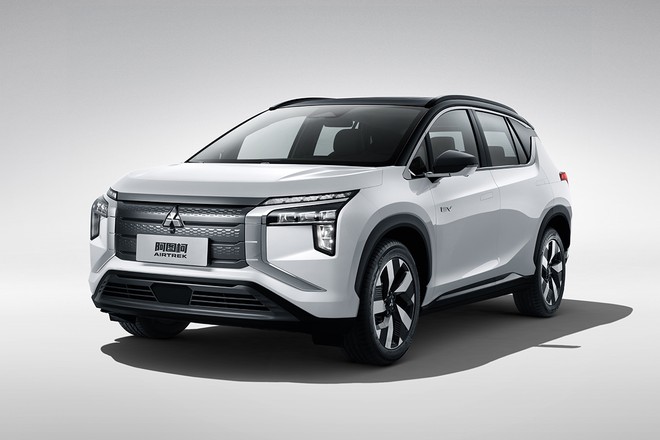 The brand new Mitsubishi Airtrek (HERE in a teaser) showed up at the Guangzhou Auto Show , the ideal stage to show the public, in preview, some of its features from SUV 100% electric. The brand new Airtrek was developed on the basis of the "SUV e-cruising" concept. So we can guess that the arrows inside his quiver are the propulsion moved exclusively by the electron, the desire to ferry the brand towards the new sustainable mobility and give the public a unique, different and original means of transport in the range.

Original yes, but without forgetting some aesthetic peculiarities that Mitsubishi wanted to implement in the new course, such as the imposing Dynamic Shield front, now with a much more futuristic look, with the large chrome blades that adorn the face and are located just below the large optical group.
The grille is "full" while the side is hairless with other aesthetic ambitions, if we exclude the hint of a side skirt. How will it drive? At Mitsubishi they bet that journalists and customers will recognize it Not as a highly comfortable and maneuverable SUV , ideal for conquering the urban jungle, but not only.

And inside the cockpit , as will it stay? Like inside a family SUV. The interior is open and spacious , it also looks very comfortable, featuring a horizontally developing instrument cluster that offers a large field of view.
To create a high-class feel, a soft padding is introduced for the parts that passengers touch most often with their hands and the seams are used in every detail. In short, the care for the interiors seems to be guaranteed.

The engine of the new Airtrek produces 70 kilowatts (approx. 95 CV ) while its battery will allow us to travel to 520 kilometres. The latter is installed in the center and as low as possible in the platform. From Mitsubishi they let us know that the motor, the inverter and the gearbox have been integrated into a single unit, so as to be light and compact.

"We called the new electric SUV Airtrek. It can reach a maximum range of approx. 520 km ". Said Takao Kato , chairman and CEO of MMC, echoing the release released. "We hope that the brand new Airtrek will help expand customer horizons in China, where environmental initiatives are accelerating with vehicles powered by new energies and increasingly popular electric vehicles."