Official Razer Huntsman V2: Uncompromising Gaming Keyboard | Price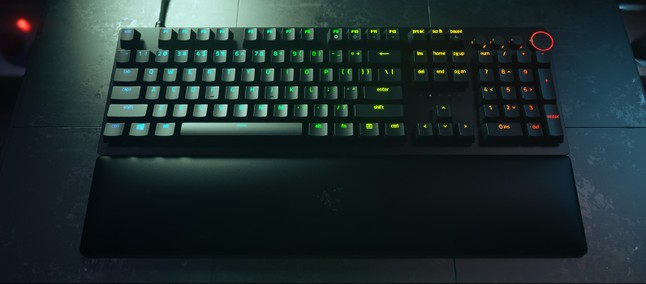 Razer Huntsman is definitely among the most successful gaming keyboards of the US company, a peripheral that since its first version of 2018 has always received excellent feedback from gamers, evolving subsequently with small and constant improvements (see Huntsman Elite – Review) up to the much acclaimed Huntsman V2 which is back on the market today with some interesting news. In the past few hours, in fact, the manufacturer has announced the new Razer Huntsman V2 and Razer Huntsman V2 Tenkeyless , the latter model offering the same features in a slightly more compact size.
The strengths of this keyboard are three : latency almost zero, best-in-class acoustics and an unrivaled company-defined key feel. As you may have guessed from the images, Razer does not upset what are the foundations of Huntsman; among the notable features of the peripheral we find the second generation Razer Optical Switches, Razer HyperPolling 8K technology and Doubleshot PBT keycaps.

Going into detail, Huntsman V2 is equipped with Linear Optical second generation proprietary switches further perfected; among the improvements there is the addition of a silicone sound damper to reduce the 'clack' and increased lubrication of the stabilizers for even smoother operation.
Razer's second generation Linear Optical Switches use an infrared light beam to activate the signal of the switch, completely eliminating the debounce delay, generally built into mechanical keyboards to ensure that a contact signal corresponds to a real key press. To this is added the HyperPolling support which with a polling-rate of 8000 Hz ensures a latency close to zero.

Other updates concern the Doubleshot keycaps in PBT as standard, for greater durability and wear resistance, as well as a special sound damping system to absorb key release noise. Huntsman V2 is also equipped with a multifunction digital dial and 4 multimedia keys; it is obviously compatible with Razer Synapse 3 and the Razer Chroma lighting system.

The younger sister Huntsman V2 Tenkeyless , has substantially the same technical characteristics but without the classic keypad numeric, ideal for those who also look at the size and clutter on the desk. Razer Huntsman V2 and Huntsman V2 Tenkeyless are already available on the manufacturer's website (US layout), respectively at a suggested price of 199, 99 euro and 159, 99 euro (more details in the VIA).