Pixel 6 Pro, repair is not a problem: JerryRig's teardown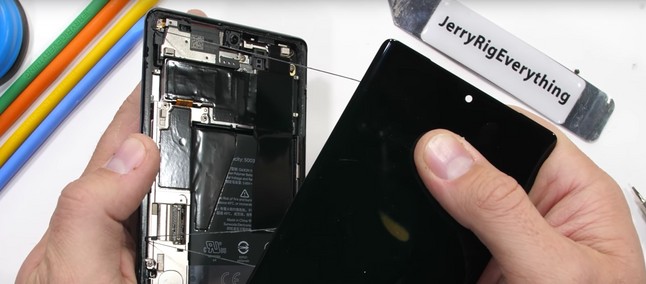 Pixel 6 Pro is definitely the smartphone of the moment: you want it because it was long overdue, you want because it cannot be found (internationally, for Italy you will still have to wait for 2022), also because not everything is going as smoothly as Google hoped between not exactly secure fingerprint scanners, random calls and autonomy – for now – not up to par. And given that the curiosity about the top range of Mountain View does not seem to wane, it is interesting to go and see the smartphone from a different perspective than usual: the internal one. And who, if not JerryRigEverything, could give us this opportunity?
The first teardown of the Pixel 6 series we have already seen it, but it concerned the basic model: in that case it was given a good 6 (on of the display, still wounded by the torture of a few days ago. The good news is that the 6 Pro – according to the youtuber – seems to be the most easily replaceable display of all 2021 . The start, therefore, is good.
Also excellent is the fact that the fingerprint sensor integrated in the display can be replaced without problems: just carry out the calibration procedure and everything will be as before. Once the screen is removed, you are in front of the internal components, including the photographic compartment, consisting of the sensors from 50 MP (with OIS), 12 MP (no OIS) and 48 MP (with OIS). The front camera is instead integrated into the motherboard.
The only component that is difficult to extract – and therefore to replace if necessary – is the battery , attached to the rest of the body with lots of glue. Below, at the bottom, the coil for wireless charging of the smartphone is hidden.
VIDEO