Prism Solar, the charging of electric cars is managed through Google Assistant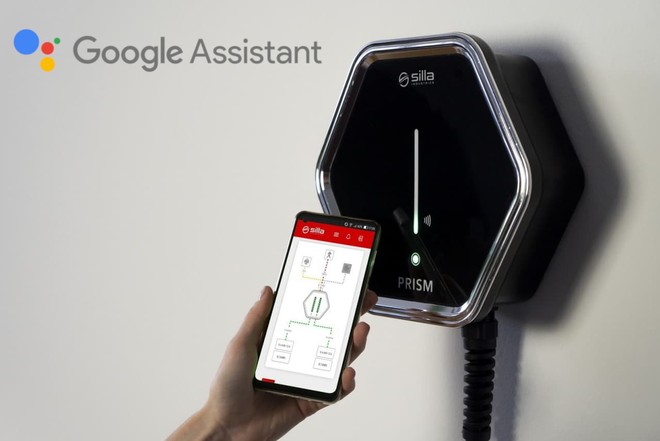 Manage the recharge of your car through a voice command ? The wallbox Prism Solar by Silla Industries , a dynamic Paduan company founded in January of this year by Alberto Stecca and Cristiano Griletti, makes it possible thanks to the introduction of support for Google Assistant .
RECHARGE MANAGEMENT HUB

This column was created specifically to become a control and management hub between the user and his electric car on the one hand, and between the available energy sources on the other. In fact, it has several smart usage modes. For example, in case there is a photovoltaic system , the column uses the excess energy produced by the solar system to recharge the batteries of the electric car, instead of giving this surplus to the electricity grid.
Furthermore, it is able to configure the load balancing to integrate the production of the photovoltaic system with a minimum of energy taken from the grid when solar production is lower, for example in winter, or not sufficient for charging the electric car. It can also combine the use of energy taken from the storage battery and from the electricity grid, always when the production of the system is not sufficient. And if there is no photovoltaic system, Prism Solar allows you to program the recharge by choosing the most convenient hourly rates . All by managing the maximum power of the meter, without ever exceeding it.
As mentioned, this column becomes even smarter thanks to an update that introduces support for Google Assistant. Using the voice commands it will be possible to turn Prism Solar on and off and ask for a report on the consumptions made. Furthermore, again through voice commands, it is possible to interrupt a charging session or activate it, set a timing and keep track of the savings obtained through the intelligent use of Prism Solar in the preferred time frame.
To interact just say: "Hey Google, talk to the column ". This important novelty comes after the introduction of RFID technology which, through a simple key or a smart card, allows the owner of the column to switch on and off his device with great ease. Cristiano Griletti , Head of R&D of Silla Industries, commented on this novelty of their product.
It is essential for us to ensure our customers a service capable of evolving over time. Anyone who buys our Prism Solar, Duo or other products knows that through an easy automatic update they will always have a latest generation system available and will help reduce the impact of waste on the environment. We want to get out of the logic of disposable consumerism at the expense of the exploitation of the environment. The products we develop are the ones we would like to see as consumers, where smart mobility becomes smart in every single aspect in which it is conceived, designed and produced.