Renault Trucks is expanding its range of electric vehicles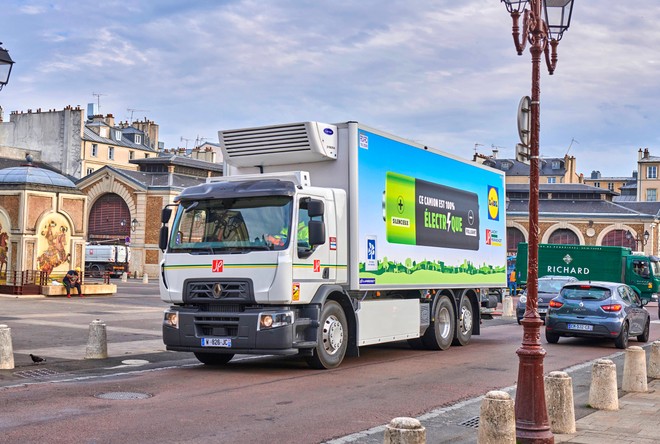 More and more electric trucks are coming to the market . Several car manufacturers are launching new models that can meet the different needs of customers who ask for battery-powered vehicles that can operate in urban centers of cities. And precisely to satisfy the great diversity of urban distribution activities of its customers who choose electric, Renault Trucks has decided to expand its offer by adding to the Renault Trucks D ZE and D Wide ZE models from 16 And 26 tons on D Wide ZE from 19 tons .
CHARACTERISTICS

This model which is built at the plant in Blainville-sur-Orne, France, is equipped with a two-axle chassis for greater maneuverability. It is a vehicle that is especially designed for " temperature-controlled transport with an optimized payload ".
Renault Trucks has also developed a new system to increase energy efficiency of vehicles 100% electric with isothermal set-up. The Renault Trucks D and D Wide ZE from , 19 And 26 tons can currently fit the fridge-connection option , which allows to supply the necessary energy to the refrigeration system directly from the traction batteries from 600 V of vehicle.
In addition, Renault Trucks has also expanded the availability of for the D and D Wide ZE from 3. 900 mm to 6. 800 mm to cover multiple applications and needs by optimizing, in particular, the load distribution. Speaking of technical specifications, Renault Trucks D Wide ZE is available in multiple wheelbase lengths. The powertrain consists of two electric motors with total power of 370 kW (continuous power 260 kW) with a torque of 850 Nm.
Batteries available from 200 kWh and 265 kWh for an autonomy of 100 to 180 km depending on configuration and usage. Renault Trucks D ZE, on the other hand, is offered with two wheelbase configurations and can count on a engine with 185 kW (continuous power 130 kW) with a pair of 425 Nm. Everything is powered by batteries from 200 a 256 kWh . Autonomy can reach up to 400 km .