Renault unveils two new Fuel Cell commercial vehicles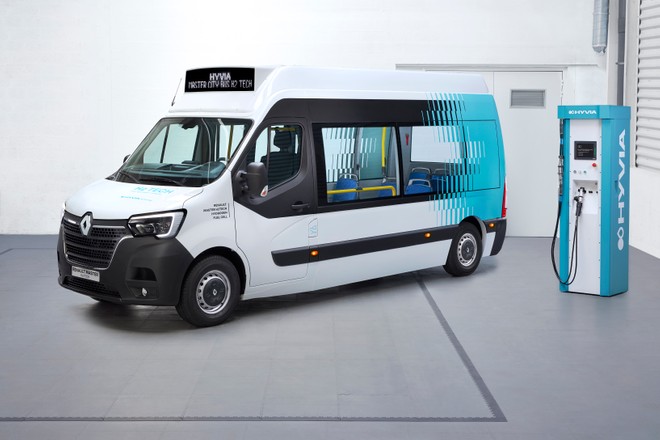 Renault's strategy is not all about the electric. The French group, in fact, also focuses on the Fuel Cell . For this, it created the HYVIA joint venture with Plug Power with the aim of developing new hydrogen-based mobility solutions. In particular, the joint venture is working on the development of light commercial vehicles Fuel Cell. A prime example of this work was was presented in mid-October when HYVIA unveiled the prototype of the Renault Master Van H2-TECH.
Now, the joint venture enriches its range of hydrogen vehicles with two new prototypes of light commercial vehicles. These are the Renault Master H2-TECH Chassis Chassis and the Renault Master City Bus H2-TECH.
AVAILABLE FROM 2022

Going into more detail, the model Master Cabinet Frame H2-TECH is a vehicle designed for professional operators that can be offered in different configurations. For example, it can be set up as a van with a cargo volume of 19 m³ and to transport goods up to a maximum weight of 1. 000 kg. The technical details available are not very many. However, this vehicle has a 30 kW fuel cell, a 33 kWh and tanks capable of holding up to 3 kg of hydrogen (2 tanks of 1.5 kg) a 700 bar. According to what has been communicated, the autonomy reaches approximately 250 km .
The second model that was announced, the Master City Bus H2-TECH , is a minibus capable of transporting up to 15 passengers of which 9 seated and 6 standing. It is a vehicle designed for the needs of companies and local public bodies. Even in this case, the technical details shared are not many. According to what was communicated, the vehicle has a 30 kW fuel cell, a 33 kWh and a tank capable of holding 4.5 kg of hydrogen a 350 bar. The autonomous goes up to 300 km .
Vehicles, fuel cells and electric motors they are all made in France . The new Fuel Cell vehicles will be available starting from 2022. Next year, HYVIA, in addition to bringing the previously announced hydrogen vehicles to the road, will also offer refueling stations that will allow you to fill up in about 5 minutes. Stations that will be offered for sale or rental.