Samsung patents a folding similar to the Galaxy Z Fold, but with a horizontal hinge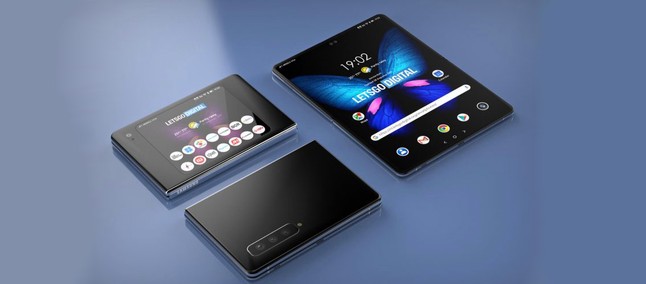 Samsung has put a considerable distance between itself and other manufacturers when it comes to foldables, the foldable devices where it is currently the undisputed market leader with its Galaxy Z Fold and Z Flip range arrived this year, respectively at the third and second generation.
For the next year the Korean company's intentions are not only to consolidate its position but also to increase the gap with respect to its direct competitors. As reported in the days by The Elec , Samsung plans to produce approximately 10 millions of new generation leaflets, of which 2.9 million Z Fold 4 and 6.9 million Z Flip 4. In relation to his entire smartphone production, it would be an ambitious 20%.

The current form factors of the Fold and Flip, however, may not be the only ones we will see in 2022. Up to now, in fact, we have had evidence of other types of design that Samsung would be testing. Among these, there would be a "rollable" with a panel that rolls up on a sliding body, similar to that LG device which, although arrived in a final phase of development, was put aside as a consequence of the abandonment of the smartphone sector by part of the company.
But in addition to the rollable there could also be an additional form factor in the program. Already in 2019, Samsung filed a patent relating to a device similar to the Galaxy Fold but with a hinge positioned horizontally, instead of vertically. A solution that may resemble Microsoft's Surface Duo which, however, has two screens side by side.

The Samsung patent, albeit with some differences, in the meantime has been approved and published by the World Intellectual Property Office (WIPO) , together with another variant always based on this design. Compared to the initial patent, the flexible screen does not have a "notch" but a dual camera.
Once opened, the device shows many similarities with the Galaxy Folds with the difference of one significantly larger visual surface. The variant involves the use of cameras under the display, a solution already seen on the Galaxy Z Fold 3 . When closed, the external display is square in shape and there is another camera. On the back, however, there is a photographic section developed vertically , with three sensors.
Obviously, a patent does not imply that a similar product will actually arrive on the market, but it is still interesting to know that Samsung is still thinking about further development of its folding devices.