Samsung to Showcase QD-OLED TVs at CES 2022 | Rumor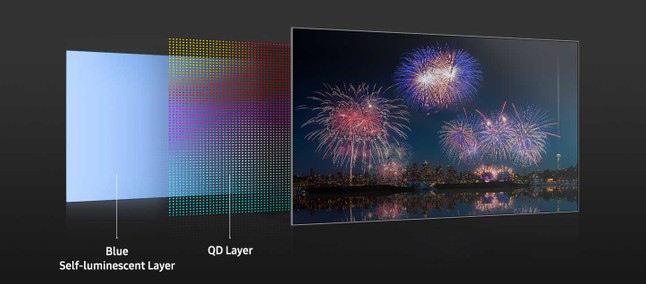 Samsung will present its first TV QD-OLED at CES 2022 , scheduled in Las Vegas from January 5th to 8th. The news comes from the newspaper Business Korea and, despite being currently unofficial, confirms all the rumors circulated over the last few months, in particular since last August, when Samsung Display made the new QD-Display technology official by dedicating a page to it on its website.
Beyond the name chosen by Samsung Electronics (QD-OLED, QD-Display or other?), It now seems certain that even the Korean giant will definitely launch itself into the OLED TV market , after the abandonment of the project focused on RGB panels that had led to the creation of the S9C series in the now distant 2013. Since then only LG Display has found the technology suitable for mass production and today supplies its panels to 20 brands around the world.
Korean sources claim QD-OLEDs will come unveiled during the event Samsung First Look , scheduled before launch of CES and already used this year to announce the Neo QLED range with Mini LEDs. The solution prepared by Samsung is based on a hybrid between OLED and Quantum Dot : hence the name of QD-OLED or QD-Display.

The technology is based on organic emitters blue capable of diffusing its own light. As with LG's WRGB OLEDs, there is therefore the possibility of controlling the independent switching on and off of each pixel. To the layer with blue emitters, called " Blue Self-luminiscent layer ", add the " QD layer " containing red and green Quantum Dot. These nanocrystals absorb blue light and convert it, emitting it back to purer form for the red and green components. The blue is simply passed as it is and adding to the red and green it composes an RGB triad for each pixel.
structure just described differs significantly from that of the LG WRGB OLEDs, made on the basis of patents acquired by Kodak. The WRGB TV panels are composed of a "sandwich" in which various organic emitters of different colors are used together to obtain a white light, which then passes through the WRGB filter to recreate all the chromatic components (red, green, blue plus white) .
The production of the QD-OLED panels is entrusted to the Q1 line at the 8.5 Gen plant in Asan in South Korea. The current capacity production is estimated at approximately 30. 000 substrates per month from 2. 200 x 2. 500 millimeters. From each substrate 6 panels can be obtained from 20 "or 3 panels from 65 ". We would therefore speak of a maximum production of 1 million 65 "all 'year or over 2 million 55 ", net of any foreseeable inefficiencies in performance that usually accompany the arrival of new technologies.
More information will come in early January.