SpaceX Inspiration4: the launch is a success!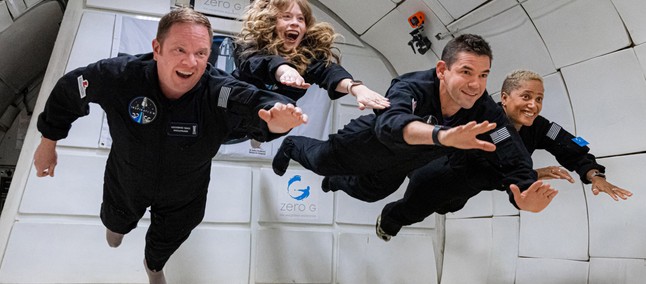 Everything according to plan: SpaceX achieves another important result in the path that leads a private company to explore the new (revenue) opportunities offered by Space .
The Inspiration4 mission is currently a success and it is an important milestone because it is the first mission with a crew formed by civilians, without the presence of professional astronauts on board . To put it differently, the mission places a significant step in the emerging business of space tourism , which is also tempting for Richard Branson with Virgin Galactic and Jeff Bezos with Blue Origin.

Technology 15 Set
SpaceX's Falcon 9 rocket took off punctually at 2. 02 of this night (Italian time) from the launch pad 39 A at NASA's Kennedy Space Center. In the Crew Dragon spacecraft are the entrepreneur (billionaire) Jared Isaacman, Hayley Arceneaux, medical assistant 29 years; Christopher Sembroski, aerospace engineer at Lockheed Martin; and Sian Proctor, a geoscientist and the fourth black woman to go to space.
The capsule was previously used to send four astronauts to the ISS just under a year ago. However, the Insipration4 mission does not involve docking on the international space station. The goal is for to spend three days in orbit around the Earth for space tourists, at an altitude of approximately 575 km (please note that the ISS is 408 kilometers from our planet).
Approximately 9 minutes after take-off, the first stage of the Falcon 9 returned to Earth for the landing phase which happened without difficulty on the droneship Just Read the Instructions in the Atlantic Ocean. A few minutes later, the Crew Dragon capsule detached from the rocket's second stage. The next phase was dedicated to reaching the predetermined altitude by intermittent firing of the thrusters.
In reality, SpaceX has confirmed that the goal is been reached and passed by reaching 585 km . Absolute record for the Crew Dragon shuttle.
View from Dragon's cupola pic. twitter.com/Z2qwKZR2lK

– SpaceX (@SpaceX) September 16, 2021
It is not yet known exactly where and when the capsule will re-enter the Earth's atmosphere, after the three days of mission. It will mainly depend on the weather conditions. However, the capsule can remain in orbit for up to a week. In the meantime, the lucky space tourists will be able to enjoy a magnificent show, observing Space through the panoramic dome that has been installed where the docking door to the ISS normally is.