TCL: 65 "8K OLED, 75" MicroLED and 8 "AMOLED that folds 360 °
TCL: 8K OLED from 32 ", MicroLED from 75 "and 8" AMOLED that folds to 360 °
18 November 2021 5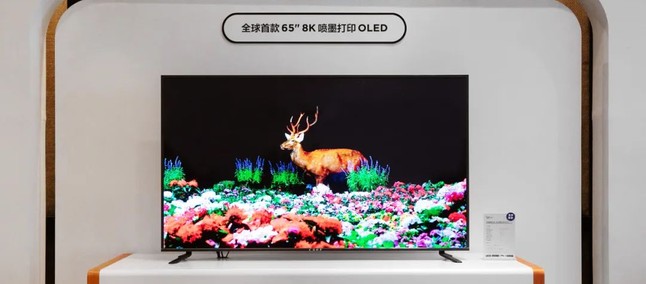 China Star Optoelectronics Technology ( CSOT ) showed various types of displays during the DTC 2021 held in Shenzhen, China. CSOT is the subsidiary of TCL which deals with the production of panels for TV, monitors and mobile devices. The most interesting product is an OLED from 32 "co n 8K resolution produced by ink-jet printing , a process that CSOT is carrying out together with JOLED , thanks to a joint venture signed in June of 2020.
The prototype shown, created with the contribution of JOLED, it is the largest OLED screen ever created with ink-jet printing. This methodology has been the subject of studies and experiments for some time as it potentially harbors great advantages. At the moment there are still aspects to be optimized, such as the limitations in the ability to create large screens and the increase in the accuracy of the machinery.

Once fully operational, ink-jet printing promises high yields: it should be possible to exploit up to 90% of organic materials, with a waste that would be much lower than the technologies currently in use (by evaporation). Obviously, the costs would benefit, which should be significantly lower than any other solution. However, more time will be needed: the start of mass production is indicatively scheduled for 2024.
MICROLED DA 75 INCHES
To DTC 2021 there was also a MicroLED from 75 ", a diagonal that until now only Samsung had brought in the form of a prototype to the CES of 2019. The TCL specifications are less impressive: we are talking about an even resolution to 2400 x 1440 pixel and a maximum luminance of 600 cd / m² – nit , for a contrast ratio equal to 75. 000: 1.

Not an Ultra HD, therefore, and not so incredibly bright, but it is understandable, given the problems that Samsung is facing to bring TVs under the 100 ". It is now clear that in order to have MicroLEDs with smaller dimensions it will be necessary to wait for improvements in the production processes.
TRANSPARENT SCREEN FROM 125 INCHES
Always remaining on MicroLED technology, CSOT has also brought a very different product: a 125 "with transparent screen designed for digital signage , ie digital signage in commercial premises, to provide information in places public, create augmented reality effects in museums etc.

MINILED FROM 49 CURVED INCHES FOR GAMING
For video game enthusiasts, a high-level solution was presented: a LCD panel curved from 49 "with Mini LED backlight . This package is meant for high-end gaming monitors in format 32: 9 . The data sheet reports an update frequency at 240 Hz and a local dimming which has over 5. 000 independent zones , capable of controlling the backlight for increase the contrast ratio. The declared luminance peak is 1. 800 cd / m² – nit .

ROLL-UP AND FOLDABLE SCREENS A 360 °
To complete the range of prototypes shown at DTC 2021 are two small screens. The first is an OLED from 14 "ink-jet print that can be rolled up to change shape , thus changing according to the task to be performed. You can therefore switch from a curved display that shows the time and day, then passing to a flat version mainly horizontal development for music playback and ending with a more canonical flat format to show the classic home screen, with application icons and the search bar. The duration is estimated at at least 100. 000 shape changes.

The second small screen is instead an AMOLED from 2480 x 1860 pixel which has the capacity to bow to 360 ° , i.e. both inwards and outwards and with a very small bending radius. According to what was reported by those who were able to view the prototypes live, folding the screen in one direction completely covers the display, in order to protect it while on the move. Acting in the opposite direction, instead, you get a device that can be used comfortably with one hand, while the opening at 180 ° turns the device into a small tablet, like on the Galaxy Z Fold 3. CSOT claims that AMOLED guarantees at least 200. 000 bends.