Tesla Semi, here it is charging from a Megacharger station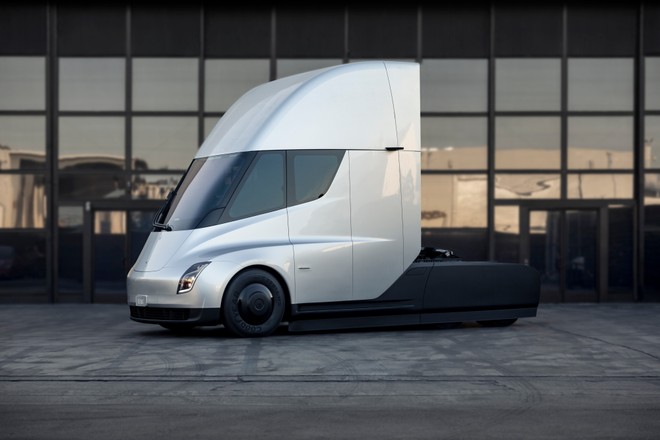 For mass production of the new Tesla Semi electric truck you will have to wait a long time. As Elon Musk explained on Twitter, his company must first overcome two bottlenecks involving the supply of the chips and battery cells. The American car manufacturer, however, has already started to experiment with Megachargers and that is the specific charging stations for its trucks
Recently, it was discovered that a station was under construction at the Gigafactory of Nevada , a site probably built for testing purposes. Apparently, the station is ready as a prototype of a Tesla Semi has already been intercepted to refuel. Thanks to a series of photos shared by Twitter user @hwfeinstein, it is possible to take a closer look at both the station and the electric truck while charging.
Awesome sighting today of a charging Tesla Semi at Tesla Giga Nevada! @SawyerMerritt @WholeMarsBlog pic.twitter.com/OoEPI3pacY

– 🦃 FSDBETA $ TSLA 🐂 in Washington טסלה (@hwfeinstein) November 15, 2021
The layout of the Megachargers is very different from that of the Superchargers that we know well. After all, it could only be so given that the station must be able to accommodate the Tesla Semi which, in addition to being much longer than a car, also need ample space to maneuver . The columns of the Megacharger have a different design from that of the Superchargers which from the photos seems to be more elegant.
I cables are very short , just to get to the charging connector of the truck. Unfortunately, we don't know the power delivered by these charging points. When Tesla first spoke about Megachargers several years ago, he stated that would deliver a power of as much as 1 MW . Unfortunately, Elon Musk's company never wanted to go into details.
The reason for choosing to build one of the first Tesla Semi charging sites at the Gigafactory in Nevada it is quite clear. The electric truck will be mass produced at the Texas factory. However, at the Nevada plant, Tesla has built a pilot line with a maximum capacity of 5 units per week. Perhaps, from here Tesla will start to start a first small series production in anticipation of solving the supply problems mentioned at the beginning that will allow to start the mass construction of its electric trucks in the future.