Tesla, the Supercharger network continues to grow: 30 thousand stalls around the world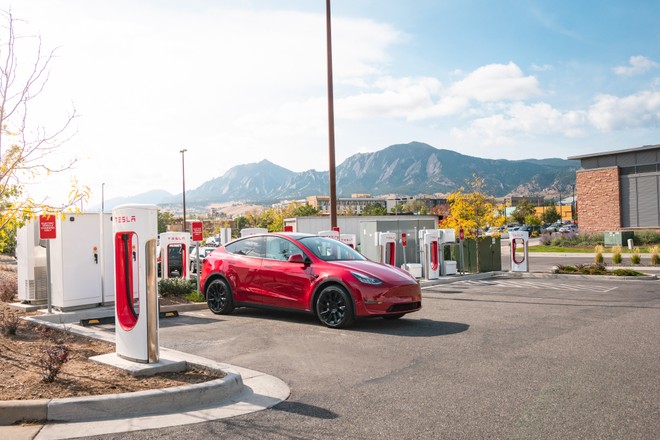 Tesla announced that it has reached an important new milestone in the development of its Supercharger network. The American carmaker has made it known that it has crossed the milestone of the 30 thousand Superchargers installed all over the world , intended as charging bays. It is worth noting that the manufacturer seems to have accelerated the growth of its charging network since only about 6 months ago, it "celebrated" the milestone of 25 thousand stalls. Therefore, in a short time a further 5 thousand Superchargers were made operational.
This acceleration would be linked to Tesla's project of open its charging network also to the electric cars of other car manufacturers. As we already know, the American brand has started a first pilot project in the Netherlands at some of its stations to test this novelty. To avoid the risk of reaching the saturation of its stations with the arrival of the cars of the other brands, it is obviously important to accelerate the expansion of the charging network.
30 k Superchargers around the world – and counting pic.twitter.com/Yw7m3cJ6HA

– Tesla Charging (@TeslaCharging) November 11, 2021
But Elon Musk's company plans aren't just about growing this network. In fact, it will also work to offer greater charging power . Currently, in the stations it is possible to find Supercharger V2 that allow to reach a maximum power of 150 kW or Superchargers V3 that allow an energy supply of up to 250 kW. Last July, Elon Musk hinted at plans to bring the maximum power of the V3 Superchargers to 300 kW to make plans for energy even faster. However, it was unclear which Tesla battery-powered cars could take advantage of this increased charging power.
Tesla is also working on "Megachargers", points of that will be dedicated to his Tesla Semi electric truck . The American car manufacturer is therefore carrying out various projects related to its Supercharger network which has always represented an important added value for its electric cars. Even when the charging infrastructure of other operators was still very immature, Tesla have always been able to rely on Superchargers to be able to travel without major problems.
It will be however, it is very interesting to find out how this network will evolve, with the expansion of the opening of stations to other electric cars.