The TCL Mini LED X925 Pro TVs with OD Zero awarded at the CES 2022 Innovation Award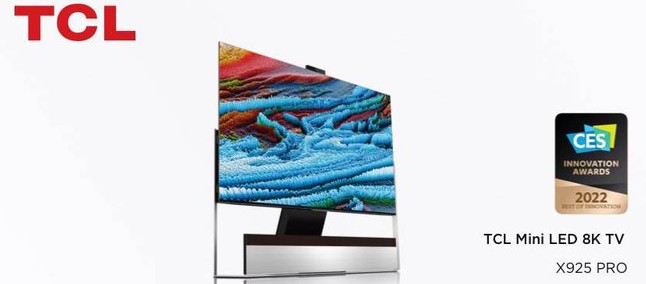 TCL received an award for the 8K OD Zero Series X Mini LED TVs 925 Pro in the frame of the CES 2022 Innovation Award . Specifically, we talk about "High Performance Home Audio & Video" for the category " Best of Innovation " , the one that gives awards to products that each year stand out for their particularly avant-garde design or engineering solutions.
On the official page (link in SOURCE) a short description of the product and the reasons that led to reward it. The X Series 925 Pro is TCL's current flagship, a 8K LCD from 85 " equipped with a Mini LED backlight (here we explain how it works) that creates a Full LED Array system with local dimming (here our guide). OD Zero technology, acronym for Optical Distance Zero, debuts on these televisions. , first announced at CES 2021.

Following the information on the official website CES:
TCL X9 (X 925 Pro) is the first TV to feature the third generation TCL Mini LED backlight and OD Zero technology. "Mini LED is a powerhouse of technology that delivers ultra-high image quality, ultra-thin design and immersive audio, the whole combined with the personalized experience of Google TV. TCL X9 (X 925 Pro) features 8K resolution, with four times the detail of TVs 4K thanks to its 33 millions of pixels. In addition to the remarkable video performance, the TCL X9 Mini LED TV (X 925 Pro) offers premium sound system thanks to the 'system developed by Onkyo and compatibility with Dolby Atmos 3D, thus creating an experience capable of completely filling the room.
Shaoyong Zhang , CEO of TCL Electronics, commented on the award with these words:
TCL is honored that our TVs have been recognized as CES 2022 Innovation Awards Honorees and we would like to thank the Consumer Technology Association (CTA) for the results obtained. This recognition is a testimony of our continuous effort to overcome the barriers and boundaries of innovation, presenting products that are always at the forefront. Our goal is in fact to bring the best possible technology to consumers around the world, who we can't wait to physically meet at CES 2022 next January.