Whale Trailer Cabin, a modular caravan that stretches for those who love camping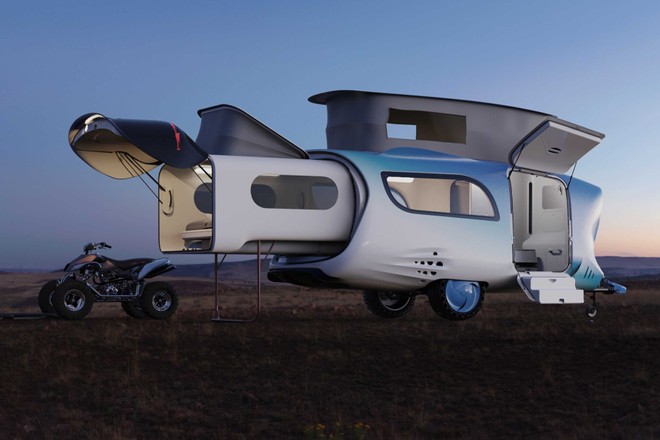 Who likes the camping and the possibility of traveling the world with your own caravan, comes a very curious news. Recently, a very special concept of a caravan won the award Red Dot Design 2021 . It's called Whale Trailer Cabin and was made by Chinese designer Hu Yong. The idea behind the project was to make a caravan for the current and future trends of the Chinese market.
In particular , the designer wanted to design a vehicle that could address the problem of offering the maximum internal space with the smallest possible external dimensions. The answer is in modularity. Whale Trailer Cabin is a compact caravan featuring a whale-inspired design and colors, hence the name "Whale". The interesting thing is that, once stopped, thanks to its movable elements it can "expand" to offer much more internal space.

For example, the whole back opens , allowing a portion of the internal structure to exit, almost doubling the living space. The roof can also rise, allowing you to gain a lot of space in height. The side entrance with steps allows easy access to the interior. There is also a sliding kitchen that allows you to cook outdoors when the weather is nice.
Unfortunately, the designer did not the interiors of the concept were shown and therefore we do not know how the environments were structured. However, given the spaces and the images of the exteriors, it can be understood that all the typical elements of this category of vehicles should be present. For example, beds, a small living room and a full bathroom should not be missing. The idea, however, is clear and is to offer a vehicle that is simple to tow but at the same time can offer a lot of space once stopped thanks to some smart solutions. All with a modern design.

A product, therefore, that could appeal to all those who love camping. Will it really arrive on the road? Some rumors speak of a project for putting into production still at the beginning. It is therefore not clear if and when it will really arrive.
Lately it is not the only curious concept of a vehicle for those who love the outdoors that is presented. At the SEMA 2021 the Toyota Tacozilla had appeared, a camper that was built from the base of the Toyota Tacoma pickup TRD Sport.